India digital bosses Nilekani and Balakrishnan vie for votes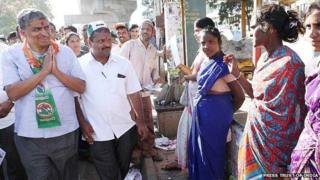 Two of India's leading information technology figures - Nandan Nilekani and V Balakrishnan - hope to win over voters in Bangalore with their record of corporate success and transparency, reports Saritha Rai.
Both are former employees of tech company Infosys - the two men helped mould it into one of India's largest IT services firms, seen by many as a hallmark for corporate accountability and good governance.
Now the colleagues of 22 years are fighting a fierce electoral battle in neighbouring constituencies in the southern city of Bangalore, promising to deliver to similar standards in politics.
Nandan Nilekani, 58, co-founder and former CEO of Infosys, and V Balakrishnan or Bala, 50, its former CFO, come from the same Infosys pedigree but have adopted strikingly different approaches in the election.
Mr Nilekani, the billionaire who quit Infosys in 2009 and headed the government's ambitious project to provide a unique identification number to half of India's billion-plus people, is a candidate in Bangalore South for India's oldest political party, the Congress.
Multimillionaire Balakrishnan, who has no public service experience, is the Bangalore Central candidate for the anti-corruption political start-up, the Aam Aadmi Party (AAP).
Formidable reputations
It is the first time two high-profile executives with such formidable reputations have entered the murky electoral fray in India.
Fittingly, the battle is in Bangalore - home to Infosys headquarters. The city unleashed middle-class aspirations in India with a technology services industry that won global renown.
The company made its founders billionaires and hundreds of employees who received stock options became multimillionaires.
So rumours of an "all Infosys" Nilekani-Bala face-off on home turf heightened anticipation. Eventually, that confrontation did not come about.
Ensconced in neighbouring constituencies now, both candidates hope that the Infosys brand will pay off handsomely on 17 April, when votes will be cast in Bangalore.
Shedding their business jackets and well-shined shoes, the duo have embraced cotton kurtas and walking shoes - all-weather politician attire - to march through crowded city lanes.
In a city of 10 million residents with a large number of young tech industry workers, both are peddling the theme of hope and change.
The distinction, however, is in the details.
Mr Nilekani's campaign has got off to a fast-paced start against former aviation minister Ananth Kumar of the main opposition Bharatiya Janata Party, who has held the seat for the past five elections.
Mr Nilekani said he decided to run as he saw politics as the biggest lever of change in society.
"I want to impact India's future, I want to push through transformation at a much faster pace," he said, adding "if half a million people vote for me, I can."
Both men have vast armies of industry colleagues to help their campaigns.
At a street gathering in Mr Balakrishnan's support, one volunteer holding up the AAP symbol, the broom, asked: "Why should a top corporate executive who earned a big salary till recently hold a broom in his hand?
"To sweep out corruption," he explained, and the small crowd roared.
"Corruption is the biggest tax that Indians have to pay," Mr Balakrishnan said in his speech.
Richest candidate
The two candidates are also bringing rare transparency to the election.
Mr Nilekani has disclosed his and his wife's assets to be $1.26bn (£760m), mostly held in Infosys shares. That makes him one of the richest candidates in the 2014 election.
"I haven't made any money illegally or hid it in investments outside the country. Nothing is hidden in someone else's bank account," he said.
It is just the sort of assertion that will resonate with his young voters and the sort that most Indian politicians cannot make.
In his canvassing, Mr Nilekani emphasises his middle class roots in an attempt to convey the "if I can, you can too" message - he was born in a government-run hospital and went to school in the city where his father worked as a textile mill manager.
At a recent, crowded meeting at a south Bangalore college, he told students, "Every one of you deserves the same chance that I got, and my mission is to expand job opportunities for India's young people."
The billionaire underlines his own feats and downplays his affiliation to the scandal-ridden federal Congress party government, whose reputation appears to have slumped to an all-time low.
The two candidates' contest is powered by tech-savvy digital and offline campaigns designed by their supporters in the tech industry.
The app-powered Nilekani campaign is a standout and is likely the most hi-tech campaign of the Indian election.
A custom-made app, for instance, helps volunteers in the field to target individual households and track political affiliations.
Another app provides detailed information on small neighbourhoods within the constituency, detailing such data as names and affiliations of elected city officials, the city's spend on that area and the work undertaken.
But there's more to it than technology.
Mr Nilekani has integrated the campaign with two other elements: a door-to-door effort by a volunteer network, and time-tested elements such as neighbourhood tours on foot and street-corner meetings.
There, he talks about Bangalore's - and urban India's - perennial challenges: water, roads and rubbish, in the hope that it resonates with the 1.8 million voters in the constituency. "People are demanding change so that these things can be set right," he says.
Fighting Mr Nilekani's Congress and the incumbent BJP is Mr Balakrishnan's AAP, which burst into Indian politics last year.
People don't merely want to change from one traditional party to another, says Namami Ghosh, an employee of IBM in India, who has taken a "without pay" break from work to power Mr Balakrishnan's campaign. "They want to change the whole system."
That can only come with clean candidates with no political lineage or vested interests, says Mr Balakrishnan. "If India gets clean, honest politicians, governance itself is not rocket science."
Voters like Kavitha Ramarao, an engineer with the software arm of Nokia, are excited that two reputed IT leaders have plunged into politics.
"Such top executives are used to a very process-oriented, problem-solving approach, they use data and analytics to make decisions and execute efficiently," she says. "This is what India needs now."
She has a doubt, though: "Politics is chaos; can they function effectively within such chaos?"
It is as if Mr Nilekani has gauged such anxiety amongst Bangalore's voters.
"I've never failed at anything I've set out to do," he asserts.
Saritha Rai is a Bangalore-based independent journalist