Indian media praise Supreme Court's bid to 'clean up' cricket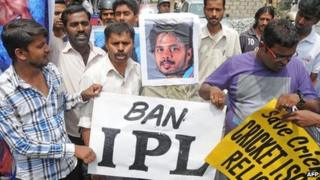 Media are praising the Supreme Court's "bid to clean up Indian cricket" as it appoints legendary batsman Sunil Gavaskar as the interim head of the country's cricket board.
A two-judge panel on Friday asked N Srinivasan, head of the Board of Control for Cricket in India (BCCI), to temporarily step down from his post to allow a fair probe into spot-fixing and betting allegations.
The top court had been examining an inquiry report it commissioned into alleged wrongdoings in last year's edition of the Indian Premier League (IPL) tournament.
Mr Srinivasan, who owns the Chennai Super Kings team, had "stepped aside" from his post in June last year after his son-in-law Gurunath Meiyappan was arrested over allegations of betting in the IPL.
But he returned as the head of the cricket board in September, sparking intense criticism from the media. Mr Meiyappan has since been released on bail.
Both men deny any wrongdoing.
"Invoking the spirit of 'Satyameva Jayate', the national motto which means truth alone prevails, the court raised the heat on the BCCI... with its order," says The Indian Express.
Cricket websites see Gavaskar's appoint as "good for Indian cricket".
"It is indeed an administrative position, but it is also the post at the pinnacle of Indian cricket. Gavaskar's sheer weight of cricketing credentials tilt the balance in his favour against all the previous board presidents put together," says an article in the Cricket Country website.
The court, however, did not bar Chennai Super Kings and Rajasthan Royals from this year's IPL, which starts on 16 April.
The two teams and some of their players are being investigated as part of an illegal betting and match-fixing probe.
Meanwhile, papers are also welcoming the Supreme Court decision to hold the Uttar Pradesh state government responsible for its "failure" to prevent last year's Hindu-Muslim clashes.
The riots in the northern town of Muzaffarnagar killed at least 60 people before troops were deployed to restore peace in the area.
"The Supreme Court has underscored what has been known all along: administrative lethargy, whether willing or otherwise, must be blamed for the conflagration in September 2013," The Times of India says.
Echoing similar sentiments, The Asian Age says that "in asking that the state act against all involved in inciting or encouraging riots regardless of their political links, the court is once again saying only what the administration should have done already".
Erotic paintings
Staying with national news, the Delhi Election Commission has decided to keep an eye on 407 polling booths through a live video feed to avoid "any nuisance", The Asian Age reports.
"We will be able to see all the proceedings happening on the ground in those polling stations on a live basis in our control rooms," Delhi's chief electoral officer Vijay Dev says.
In more election-related news, the Delhi government has asked the Aam Aadmi Party (AAP) chief, Arvind Kejriwal, to pay a rent of 85,000 rupees [£852; $1,415] per month for a flat he continues to occupy even after resigning as the chief minster of the state in February, the CNN-IBN website reports.
He had become the chief minister, with support from the Congress party, in December last year after his anti-corruption party made a spectacular debut in the Delhi assembly elections.
And finally, some 19th-century erotic miniature paintings from Punjab and other parts of India are "expected to create a sensation" when they come up for sale at Christie's in London next month.
Art experts in London say that "erotic art and sculptures from India are a common subject but they tend to be hidden", The Tribune reports.
"Many may have been painted, but very few come on to the market. You don't see them very often," the report quotes Christie's art specialist Romain Pingannaud as saying.
BBC Monitoring reports and analyses news from TV, radio, web and print media around the world. For more reports from BBC Monitoring, click here. You can follow BBC Monitoring on Twitter and Facebook.