Indian media pay tribute to 'literary giant' Khushwant Singh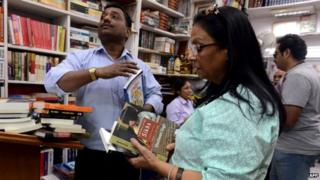 Media are celebrating the life of one of India's most famous writers and journalists.
Khushwant Singh, the author of more than 80 books, died in the capital, Delhi, on Thursday. Among his best known works are the novel Train to Pakistan, which deals with the bloody partition of India in 1947, and the non-fiction study A History of the Sikhs.
He will also be remembered for his wit, amply exhibited in his popular column With Malice Towards One and All, which was published in the widely-read Hindustan Times newspaper.
"Khushwant Singh died young. Those who've known him through his 99 years agree he didn't act his age. He had his single malt on Wednesday evening, did the crossword on Thursday morning and then retired to rest," Shreya Roy Chowdhury points out in The Times of India.
"He passed away the way he wanted to," his son Rahul Singh, also a journalist, reveals. Writing in The Times of India, he recalls that his father "hated fundamentalism of all kinds" and felt that "the growth of religious fundamentalism was the main challenge facing India".
"He was, above all, a great communicator. As the Kipling poem goes, he could walk with kings and yet had the common touch," says Rahul Singh.
Novelist and poet Vikram Seth dedicates a tribute in verse to Khushwant Singh in The Hindustan Times in which he calls him "King of the Columnists and prince of hosts".
Mr Seth adds that he will remember Mr Singh as "a fearless writer" with "an irreverent wit" who was also a "considerable scholar".
An editorial in The Pioneer refers to the writer as a "literary giant". "Outspoken, irreverent and brutally honest, Khushwant Singh was a free spirit," the paper says.
"We celebrate a great life, not his passing away," well-known journalist BG Verghese argues in DNA newspaper. "He was a writer, author, historian. He was a great human being. He said what he wanted to say and pricked the balloons of ostentatious people".
'Sulking patriarch'
In domestic politics, media are discussing the "high drama" within the main opposition Bharatiya Janata Party (BJP) over the decision to announce veteran politician LK Advani's candidacy from Gandhinagar constituency in Gujarat state.
Reports say Mr Advani, who has won from Gandhinagar five times, wanted to contest the parliamentary elections due next month from Bhopal.
The Hindustan Times says the "sulking party patriarch" was "placated" by top party leaders and he ultimately "came around" when the party made a public announcement, leaving the final decision to him.
Newspapers mock the situation on their front pages.
"BJP gives Advani a 'choice' without giving him a choice: Gandhinagar," reads the Times of India headline.
"Advani Modi-fies stand, agrees to contest from Gandhinagar in Modi's Gujarat," reads the headline in The Hindustan Times, referring to BJP's prime-ministerial candidate Narendra Modi.
Commenting on the party's "internal dissensions", The Hindu says Mr Modi should "ensure that his own party is on board with him".
Rape trial
Meanwhile, papers welcome the "speedy trial" into the gang rape of a photojournalist in Mumbai for which four men were convicted on Thursday.
The incident took place in August at an abandoned mill where the woman was on assignment.
Emphasising that "rapes are a reality that cannot be dealt with by mere laws", the DNA newspaper says "the key to enduring change is a radical change in our mindset".
The Times of India calls for all rape trials to be carried out in fast-track courts and urges political parties to adopt "concrete measures" to enhance the safety of women.
And finally, you can fly cheaper if you share your name with a character in a famous Bollywood film, reports the NDTV website.
Virgin Atlantic is offering discounts on air tickets to people who have any of the 12 popular names featured in Hindi films, it adds.
The list consists of Karan, Simran, Anthony, Tina, Vijay, Pooja, Arjun, Priya, Rahul, Kiran, Rohit and Sonia, an airline official was quoted as saying.
BBC Monitoring reports and analyses news from TV, radio, web and print media around the world. For more reports from BBC Monitoring, click here. You can follow BBC Monitoring on Twitter and Facebook.