Indian media say Delhi walks 'diplomatic tightrope' over Crimea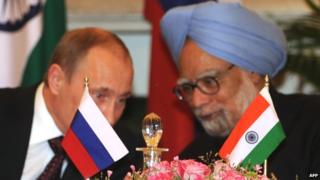 Media are mulling whether India has made the right move by deciding not to back Western sanctions imposed on Russia after it annexed the Ukrainian territory of Crimea.
Several newspapers quote government sources as saying that "India has never supported unilateral sanctions against any country… Therefore, we will also not support any unilateral measures by a country or a group of countries."
The sources added that this was in line with India's policy of implementing sanctions approved only by the United Nations.
"The remarks came a day after Russian President Vladimir Putin explained the situation to Prime Minister Manmohan Singh" in a telephone call, recalls The Indian Express.
The Pioneer is not surprised that President Putin has thanked India for "showing restraint". The daily points out that earlier this month, National Security Advisor Shiv Shankar Menon also mentioned "legitimate Russian interests" in Crimea in a statement that "showed Indian support for Russia, a long-standing friend".
"Having clearly supported Russia, its old ally, as it annexed Crimea from Ukraine." India got "a pat on the back" from Mr Putin, comments The Asian Age. It warns, however, that Delhi is "walking a diplomatic tightrope".
The Times of India argues that India's decisions should not be dominated by the "Putin called up Manmohan Singh but Obama didn't" school of thought. It points out that "Delhi has no essential interest in either Ukraine or Crimea" and should, therefore, not take sides. "Genuine non-alignment - rather than non-alignment of the Soviet-leaning variety of the past - is the best option on this one," advises the daily.
The Indian Express worries that "Moscow's annexation of Crimea" could also influence events in Asia. "Japan, the Philippines and Vietnam, locked in escalating maritime territorial disputes with a rising China, are deeply concerned at the inability of the US and the international system to stop a big power from snatching territories under the control of another," writes the paper.
Wooing voters
The Election Commission has issued guidelines for political advertisements on social media to make sure that candidates do not post anything that violates the model code of conduct before the parliamentary elections next month, The Hindu reports.
Networking sites have been asked to "maintain expenditure incurred by political parties and individual candidates" and ensure that the content they display is not "unlawful or malicious".
The Indian Express adds that all major political parties in India have been using social networking sites in a bid to "woo young voters".
Meanwhile, political parties are following the example of e-commerce websites and hiring data analytics firms to influence voters, The Hindustan Times reports.
"Data analysis would give leads to political parties in understanding which are the most accessed websites where they can post ads… which political subject or issue users are more interested in," the paper quotes Siddharth Puri, chief executive officer of digital advertising firm Tyroo Media, as saying.
"Dancing on air"
And finally, a song-and-dance celebration of Holi, the traditional festival of colours that marks the beginning of spring, on board the private carrier SpiceJet, has landed its crew "in trouble", NDTV website reports.
The Directorate-General of Civil Aviation (DGCA) has cautioned the airline and suspended two of its pilots for "violation of all safety norms" after they performed an onboard dance on 17 March, the report says.
Videos of the "joyful" event were uploaded on YouTube and other social media. On one of them a pilot is "seen coming out of the cockpit and taking photographs of the celebrations", informs the website.
"The cockpit was manned at all times as per DGCA regulations that govern the situation when one pilot is outside for example to use the lavatory," an airline spokesperson was quoted as saying.
BBC Monitoring reports and analyses news from TV, radio, web and print media around the world. For more reports from BBC Monitoring, click here. You can follow BBC Monitoring on Twitter and Facebook.