Shashi Tharoor: India minister alleges 'vilification' by rivals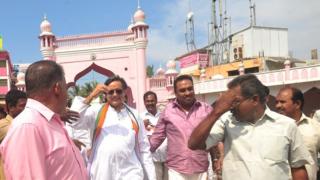 Indian minister Shashi Tharoor has lodged a complaint with the Election Commission accusing his political opponents of a "vilification" campaign.
Mr Tharoor, who is running in the general election, says his rivals are trying to portray him as anti-women.
His wife, Sunanda Pushkar, was found dead in January. Doctors said she may have died from a drug overdose.
The couple were embroiled in a row days before her death over Twitter messages suggesting he was having an affair.
Police are investigating whether the overdose by Ms Pushkar, who was found dead in a hotel room, was deliberate or accidental.
Mr Tharoor is India's junior minister for human resource development and represents the governing Congress party.
He filed his complaint on Tuesday to the chief electoral officer in the southern state of Kerala, where he is fighting to retain his seat in the Lok Sabha - the lower house of parliament. Elections in India are due over nine phases in April and May.
The minister has alleged that his opponents from both sides of the political spectrum are engaged in a "sustained campaign of vilification and defamation".
"[They are] intended to portray me as someone who harms women, and using false stories about the tragic death of my wife to assassinate my character. This is a desperate ploy by those who have no answers to my development work," Mr Tharoor said in the complaint.
The minister's complaint follows comments by communist politicians VS Sunil Kumar and M Vijaya Kumar on regional television networks.
Ms Pushkar's death shocked many in India. A few days before she died, a public row broke out between the couple when seemingly private messages between Mr Tharoor and Pakistani journalist Mehr Tarar were published on his Twitter feed.
Ms Pushkar, 52, said she had gone into her husband's account and published the messages, accusing Ms Tarar of stalking her husband - an allegation denied by the Pakistani journalist.
Ms Pushkar and Mr Tharoor later insisted they were happily married and blamed "unauthorised tweets" for causing confusion.
Mr Tharoor, a former UN diplomat, was forced to resign from his first ministerial position in 2010 amid controversy over his involvement in bidding for a cricket team.
He was appointed junior minister for human resource development in 2012.