Delhi gang rape: Media praise court for upholding death penalty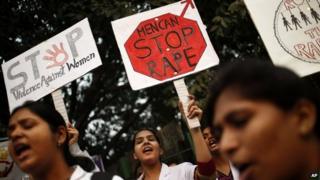 Media in India are welcoming the decision of a Delhi court to uphold the death sentence given to four men convicted of the gang rape and murder of a student in 2012 in Delhi.
Mukesh Singh, Vinay Sharma, Akshay Thakur and Pawan Gupta were found guilty last September.
The 23-year-old medical student was attacked on a moving bus in December 2012 while she was returning home after watching a film. The male friend she was with was also beaten up.
The rape shocked Indians and prompted protests across the country, and also led to the formation of new anti-rape laws.
Dismissing the appeal of the convicts, the high court on Thursday said if this is "not the rarest of rare cases, there is likely to be none", reports say.
Newspapers have given prominent coverage to the verdict with strong headlines such as "No mercy, HC upholds death for 16/12 convicts" in the Hindustan Times.
The paper adds that the verdict sends a "strong message" to perpetrators of "grotesque and ghastly crimes against women".
The Pioneer's front-page headline reads: "HC paves way to gallows for Dec 16 rapists".
Meanwhile, human rights activists are divided over the death penalty given to the four men.
A representative of the All-India Progressive Women's Association, Kavita Krishnan, says the death penalty is "not synonymous with justice", The Hindu says in another report.
However, another activist Ranjana Kumari welcomed the court's verdict, calling it a "good message to criminals and sexual assaulters that they can't get away", the paper says.
Moving on to international politics, papers are also covering prominently a US court's decision to drop charges against Indian diplomat Devyani Khobragade, whose arrest by American authorities in December had put a strain on the bilateral ties.
The court ruled that Ms Khobragade had diplomatic immunity at the time of her indictment on visa fraud and underpaying her housekeeper.
Welcoming the decision, an editorial in The Tribune says the dismissal of charges is "vindication" of India's stand on the issue. It, however, urged both countries "to move on" and to allow this incident only to become a "footnote in the continuing stream" of bilateral engagement.
'On air resignation'
Meanwhile, a court in Mumbai has framed charges against Bollywood actor Saif Ali Khan and his two friends for assaulting a South Africa-based businessman at a hotel in the city in February 2012, reports The Hindu.
The next hearing in the case will be held on 30 April since the three men have pleaded not guilty.
If proven guilty, they may face imprisonment of up to seven years, the paper says.
In an unusual move, a news presenter at Malayalam Indiavision TV channel in the southern state of Kerala announced his resignation on air on Thursday, reports The Indian Express.
K P Abhilash said the news department has decided to "stop operations" as a mark of protest against the "anti-labour stand of the management", the paper adds.
Such a step is relatively unheard of in India and is reminiscent of a presenter on Russian-backed TV station Russia Today recently announcing her resignation on air over the situation in Ukraine.
And finally, parents can now be reminded of vaccination dates for their children through text messages on their mobile phones, reports the Deccan Herald.
The free vaccination reminder service, launched by the Indian Academy of Paediatrics, will cover a child from birth until 12 years of age, it adds.
Official estimates say nearly 7.5 million children miss their vaccinations every year.
"A major cause for dropouts is parents often forget to vaccinate their child on time in the absence of a vaccination calendar maintained in a disciplined manner," Health Ministry official C K Mishra is quoted by the paper as saying.
BBC Monitoring reports and analyses news from TV, radio, web and print media around the world. For more reports from BBC Monitoring, click here. You can follow BBC Monitoring on Twitter and Facebook.