India's growing market for leisure biking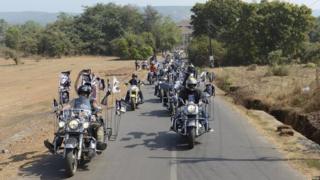 Pawan Kumar Billtoria, squatting under the shade of a giant tree in his ramshackle yard in west Delhi's Mayapuri district, is spray painting the tank of a 1960's Royal Enfield motorcycle.
When it reflects the light in a film of perfect smoothness, he hangs the tank up to dry in his shed, above his chickens, which are scratching about in coops.
Around the cages, rusting automotive parts are piled up to the ceiling.
In his early 50s, Mr Billtoria's eyes are permanently bloodshot from decades of exposure to paint chemicals, but he doesn't seem too concerned: painting motorcycles is what he does, and the way he does it has been passed down through apprenticeships stretching back to the time of the British Raj.
But his customers nowadays are different - a new crop of young Indians eager to own a motorcycle that displays their individuality in shining chrome, flaming red, or British racing green.
These customers, whether choosing to purchase a brand new high-performance bike or customise a vintage machine, have aims very different from the owners of the 10 million small, usually 125cc, motorcycles now on Indian roads.
Growing fast
Far from being used as a means of commute, these bikes costing up to 3.1m rupees ($53,000; £32,000) are an indulgence, a status symbol, a hobby.
The number of Indians with money to burn on leisure biking is growing fast, and the world's most revered motorcycle brands are gearing up to equip them.
American brand Indian Motorcycle has opened its first showroom in Gurgaon near the capital, Delhi, the British brand Triumph opened its first dealership in Bangalore in January, and Italian high-performance motorcycle manufacturer Ducati has announced it will enter India this year.
It was as recently as 2007 that Yamaha launched the R1, a 1,000cc bike that was the only manufacturer-supported superbike in India at the time, with Suzuki launching the Hayabusa 1,300cc in 2008, and Honda the CBR1000RR in 2009.
But it was Harley-Davidson, which opened its first showroom in mid-2010, that set the stage for luxury leisure biking in India, with its after-sales attention and its commitment to developing the scene in sponsorship of such events as the annual India Bike Week, the second of which took place in Goa in January.
From fledgling sales of 200 superbike units in 2007, Harley-Davidson has doubled its sales figures to 400 per year.
These may still be trifling figures when compared to the 800,000 motorcycles that are sold in India every month, but Harley-Davidson has recorded yearly double-digit growth, and now has 4,000 of its motorcycles on the road in India.
"The market here is aspirational, with a strong hunger for global brands," says Anoop Prakash, managing director of Harley-Davidson India.
"There is a fast-growing and improving infrastructure, for both business and leisure. India also has a strong motorcycle legacy and culture - the top two-wheeler markets in the world are China and India, but in motorcycles, India is far ahead. This is why we have committed so solidly to the Indian market."
Bespoke customising
Harley-Davidson this year launched the Street 750, which is its first motorcycle to retail for less than $8,000, and is designed to appeal to the young, urban rider.
Triumph is incorporating self-expression directly into its sales process and its showrooms are the first in the world set up for buyers to customise their motorcycles with a range of features from extra chroming to electrical devices, and a choice of seats to selecting the bike's colour scheme. Customers can also use the online configurator to build their own bike.
Vimal Sumbly, Triumph managing director in India, says that as with the other leisure motorcycles brands, customers tend to be between 25 and 40 years, living in the major cities.
There are bookings for 200 Triumph motorcycles so far, with 50 of those now licensed and being ridden on Indian roads.
Indian Motorcycle stands out for eschewing younger riders for those mainly in their 40s, a result no doubt of the pricing at $40,000 and upwards.
"At the very top end, where there are probably 200 bikes sold a year, we hope to gain 10-15% cent of the market," says company official Pankaj Dubey.
While most motorcycle enthusiasts don't have $40,000 to spend, the growth of the leisure biking market is having an impact on small-scale customising.
Bobbee Singh, owner of Old Delhi Motorcycles, an outfit that restores and reworks vintage Royal Enfields, says he is increasingly bombarded with orders for unique custom builds.
He turns to the mechanics, metal smiths, leather workers and painters, including Mr Billtoria, who have skills that have often been passed down from father to son for generations.
Their workshops in Jhandewalan, Karol Bagh and the Trans-Yamuna area are a world away from the shiny showrooms of the big-name brands.
In Shahid Khan's workshop in Mayapuri, leather cutouts hanging on the walls record the shape and size of tanks, mudguards and tool-box covers of motorcycles that have been in India since the early 1900s, from Hendersons to Ariels.
While the patterns were originally used to make spare parts for repairs, now they are often used to customise motorcycles to emulate a more classic age. All the metal is cut, beaten, sculpted, soldered and painted by hand.
"Bespoke customising is not new to India. There has always been a tradition of cobblers and tailors supplying to people wanting a personal touch," says Mr Singh.
"While all the big names in motorcycles are coming to India - and we have the long history of Royal Enfield in this country to thank for paving the way for that - that India's artisans of the craft of making motorcycles gain greater prestige and better working conditions is more important to me."
All signs point to India's rapidly growing market for leisure motorbiking having room for both.
Victoria Burrows is a Delhi-based independent journalist