Media say India election a 'celebration of democracy'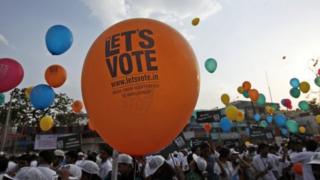 Media in India see the upcoming general election as a "celebration of democracy" and urge citizens and politicians to make it a "grand success".
Most newspapers have published special front pages dedicated to the "world's largest" election exercise that will take place in nine phases between 7 April and 12 May.
Votes will be counted on 16 May, the Election Commission (EC) announced on Wednesday.
"The numbers say it all. With about 814 million people eligible to vote, India will witness a nine-phase election over a 36-day span covering 930,000 polling stations that will press into service about 1.9 million electronic ballot units - the largest and lengthiest democratic exercise in the world," says The Hindu.
The Indian Express editorial says this general election will "test theories about how Indian voters have changed and how that is mirrored in what they expect from politics and the state".
"This election promises to shine the light on who we have become as a nation," it adds.
Mammoth task
Papers feel the commission has a tough task of completing smooth elections amid massive security and logistical challenges.
"Conducting a general election in the world's largest democracy is undoubtedly a mammoth operation," The Times of India says, adding that the commission could have conducted the polls in a shorter time.
"This is a management event that expects zero error and 100% success. For the Election Commission, a 60% successful election, or even 80 or 90% success, is not an option," says The Indian Express.
Security is another challenge that has to be managed, especially in areas which have a sizeable presence of Maoist rebels who oppose the elections and have tried to sabotage the process in the past.
"The EC is now a very experienced institution, with a well-oiled machinery. Its foremost concern every time is, of course, a peaceful poll. The safety of voters, of polling staff and even of security forces is always an overriding concern. We cannot afford to lose any lives," the paper adds.
The commission is also tasked with keeping an eye on inflammatory speeches, over-expenditure by parties and candidates and maintaining religious harmony in the country.
"It is faced with numerous challenges, including the use of money and muscle power, misstatement of election expenditure, criminals in electoral politics and the menace of paid news and rigged opinion polls," notes The Tribune.
Youth and women
Media feel the country's youth and women are going to participate in the elections in huge numbers, and this will force parties to make their promises more focused on specific issues.
"What really drives young citizens? Do they value questions of secularism and social justice, or are they swayed more by talk of ending corruption and ensuring a better environment for entrepreneurship? This election could clarify the extent to which new voters inject new content into the political argument," says the Indian Express.
Among several issues, papers feel corruption is going to be one of the key talking points in the run up to the polls.
"This election will see corruption and governance as major issues, along with livelihood and safety concerns," says The Hindu.
And finally, the Asian Age praises the commission for its efforts in making the election process fair.
"It is the fairness which is ensured that truly makes India's national election a festival of democracy," it adds.
BBC Monitoring reports and analyses news from TV, radio, web and print media around the world. For more reports from BBC Monitoring, click here. You can follow BBC Monitoring on Twitter and Facebook.