India Maoists warn against live-in relationships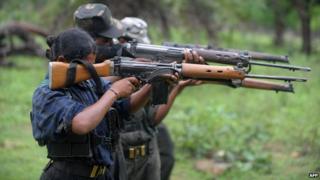 Maoist rebels in India have been warned by their leaders to refrain from live-in relationships, pre-marital sex and extra-marital affairs.
The rebels said such behaviour would be regarded as "indiscipline".
The move follows the recent surrender of top Maoist leader GVK Prasad along with a female cadre with whom he was said to be in a live-in relationship.
The rebels said Mr Prasad should have divorced his wife before getting into another relationship.
The Maoists, generally known for their liberal stance in relationships, say they are not against their cadre falling in love, but that Mr Prasad's behaviour has given the organisation a bad name.
Mr Prasad, however, says that he has been divorced from his wife.
"There is no ban on the cadre to fall in love. Our comrades are at liberty to choose their partners. They have to take a sanction from the respective committees in the organisation to get married," Gudsa Usendi, Maoist spokesman in Chhattisgarh's Dandkaranya forest area, said in a press release to the BBC.
"But any kind of physical relationship - whether it is pre-marital or extra-marital - is not allowed. This amounts to indiscipline," the statement added.
Senior police official Mayank Srivastava, who has worked extensively in the conflict zones in central India, however, says that surrendered rebels have revealed that many of their top leaders are in live-in relationships. "This has been a prevalent practice for them. What they claim now is surprising."
Mr Srivastava says the rebels do not like their cadre having children.
"This is the reason that the cadres have to undergo vasectomy to avoid pregnancies. On many occasions when we conducted raids on their hideouts, we recovered contraceptive pills and condoms in large numbers," he says.
The Maoists, who say they are fighting for the rights of the poor, are active in more than a third of India's 600 districts and control large areas of several states in a "red corridor" stretching from north-east to central India.
The insurgents are fighting a guerrilla war against the country's government and have been described by Prime Minister Manmohan Singh as the country's "greatest internal security challenge".
Major military and police offensives in recent years have pushed the rebels back to their forest strongholds and levels of violence have fallen.
But hit-and-run attacks are still common, killing hundreds of people every year.