India submarine: Navy boss DK Joshi quits over accident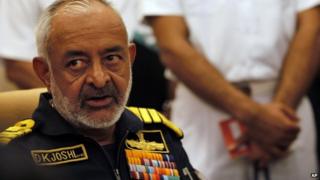 India's navy chief has resigned after an accident on board a submarine off the coast of Mumbai that injured seven sailors and left two missing.
Admiral DK Joshi had accepted "moral responsibility" for this and other operational accidents involving navy ships in recent months, officials said.
The INS Sindhuratna was being tested at sea when smoke triggered the automatic closure of hatches on Wednesday.
Last year, 18 sailors died in one of the Indian navy's worst disasters.
They were killed when a submarine sank following two blasts and a fire at a Mumbai dockyard.
Initial investigations showed arms on board the Russian-built INS Sindhurakshak may have played a role in its sinking.
String of disasters
"Taking moral responsibility for the accidents and incidents which have taken place during the past few months, the Chief of Naval Staff Admiral DK Joshi today resigned from the post of Navy Chief," the defence ministry said in a statement on Wednesday.
The government said it had accepted his resignation "with immediate effect".
The latest accident is thought to be the 10th involving a navy warship and the third submarine accident in the last seven months since the Mumbai dockyard disaster in August.
In the latest incident, reports say INS Sindhuratna was not carrying any ammunition since it was still being tested.
"The submarine was on a routine training sortie off Mumbai's coast when smoke was detected. Measures were taken to contain it," navy spokesman Commander Rahul Sinha told the NDTV news channel.
The crew were taken to hospital after inhaling the smoke.
"All the sailors are currently undergoing treatment under the supervision of a team of doctors," Commander Sinha added.
Navy ships have been deployed around INS Sindhuratna to provide help, he said.
The Russian-origin Kilo class vessel was recently refitted. Reports said there was no serious damage to the submarine and that it was making its way back to the harbour.
A board of inquiry under a senior officer has been ordered to find out the reason behind the accident, Press Trust of India reported.
Last month, another submarine, INS Sindhughosh, reportedly carrying ammunition and a full crew, ran aground while returning to the harbour in Mumbai.
There was no loss of life or damage to the submarine.
In February 2010, one sailor was killed when a fire broke out in the battery compartment of INS Sindhurakshak.