Rajiv Gandhi murder: India appeal against release of four plotters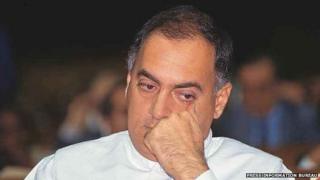 India's government has asked the Supreme Court to put on hold the release of four of the seven people convicted of involvement in the 1991 murder of former PM Rajiv Gandhi.
Tamil Nadu state, where the plotters are held, ordered the release of all seven convicts last week.
But the top court suspended the release of three of them after the federal government filed a legal challenge.
The six men and a woman were members of Sri Lanka's Tamil Tiger rebel group.
Last week, the Supreme Court halted the release of three men - Murugan, Santhan and Perarivalan - whose death sentences were commuted earlier by the Supreme Court. They have been in jail for more than 20 years and were on death row since 1998.
The court cited apparent "procedural lapses" by the Tamil Nadu government in ordering their release.
Now the federal government has petitioned the court to put on hold the release of Robert Pious, Jayakumar, Ravichandran and Nalini who are serving life sentences for involvement in the assassination. The Supreme Court will hear the government's plea on Thursday.
Gandhi's murder in May 1991 was seen as retaliation for Indian involvement in Sri Lanka's civil war, after peacekeepers were deployed there in 1987.