Amnesty seeks 'more detail' on Indian deaths in Qatar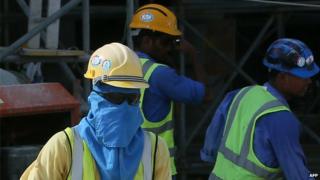 Human rights group Amnesty International has urged India to give "more transparent information" about the deaths of Indian workers in Qatar, the host nation for the 2022 World Cup.
India revealed on Monday that 455 Indians had died in 2012 and 2013, prompting concerns from labour groups.
It said the "overwhelming number" of deaths were due to natural causes.
Indian and Qatari officials insist there is nothing abnormal about the death rate given the population there.
About 500,000 Indians live in Qatar and India's external affairs ministry said the "figures for the number of Indian deaths in the last five years remain consistent" and are not "in any way attributable to any one cause or the other".
Nevertheless Amnesty International said the government should provide more details about the deaths.
'Serious labour abuses'
"Instead of simply saying that such deaths are normal, the Indian government should provide clearer and more transparent information," Nikhil Eapen, spokesperson, Amnesty International India, said in a statement.
He said that concern arose because cause of death was unclear.
"What we need to know is who these people were - how old they were and what work they were doing - and how they died."
Mr Eapan said the Indian government should "work urgently with the Qatari government and other governments across the Gulf to address the serious labour abuses experienced by Indian migrant workers".
Following a freedom of information request by the AFP news agency, the Indian embassy in Doha published figures showing that 237 Indian workers had died in Qatar in 2012 and 218 in the first 11 months of 2013. On average, about 20 died per month, peaking at 27 in August.
The International Trade Union Confederation (ITUC) said the data showed "an exceptionally high mortality rate".
The emirate has been under pressure to improve conditions for migrant workers.
Last month, AFP reported that 191 Nepalese workers had died in Qatar in 2013, many of them from "unnatural" heart failure, taking the total to at least 360 over two years.
The World Cup organisers subsequently published a "workers' charter", in response to a call from football world governing body Fifa for Qatar's working practices to be revised.