Telangana: India parliament passes bill creating new state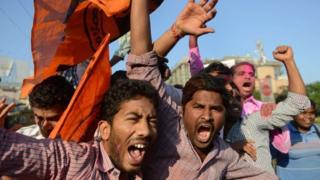 India's upper house of parliament has approved a bill to carve out a new state in the south of the country, following days of political turmoil.
Lawmakers opposed to the division of Andhra Pradesh state chanted "No, no" as PM Manmohan Singh delivered a speech shortly before the vote.
Telangana will become India's 29th state once the bill is signed into law by the president.
The creation of the new state has proved bitterly controversial.
On Wednesday the chief minister of Andhra Pradesh, Kiran Kumar Reddy, resigned in protest against the bill to create Telangana, one day after it was passed by the lower house.
The passage of the bill through parliament has been accompanied by chaotic scenes. Last week one lawmaker used pepper spray in parliament to disrupt proceedings.
L Rajagopal was suspended along with 16 other MPs for "unruly behaviour". Many politicians from the ruling Congress party have strongly opposed the move.
With a population of 35 million, Telangana will comprise 10 of Andhra Pradesh's 23 districts, including the city of Hyderabad.
Backers of the new state say the area has long been neglected by the government.
Opponents are unhappy that Hyderabad, home to many major information technology and pharmaceutical companies, would become a shared state capital for 10 years, after which it would remain with Telangana while Andhra Pradesh would have to develop a new capital.