Tolls abolished for India's Gurgaon highway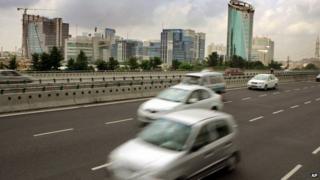 A major highway in India has abolished tolls to end traffic congestion.
The eight-lane expressway connecting the capital, Delhi, with the suburb of Gurgaon, has been controversial ever since it opened in 2008.
Some 200,000 vehicles take the highway daily. Sometimes they can take up to 20 minutes to clear the toll gates.
Efforts made to decongest the traffic by putting up additional collection windows and deploying more people to manage the traffic failed.
On Wednesday the Delhi High Court allowed three stakeholders in charge of the expressway, including the private operator and the state-run highway authority, to remove tolls on the 27km (16-mile)-long expressway.
To compensate for the losses, the operators will now charge vehicles more at a toll gate beyond Gurgaon on the expressway which ends in the city of Jaipur, some 270km (167 miles) from Delhi.
On Thursday morning, vehicles were seen speeding through the 32 unmanned toll gates.
"It's a win-win situation for all the parties. Public commuting between Delhi and Gurgaon will get huge relief," RP Singh, chief of India's highway authority told Times of India newspaper.
The expressway was one of India's first big projects built jointly by the state-run and private companies.
But it soon got embroiled in controversies over traffic congestion, badly planned slip roads, lack of over-bridges for pedestrians and alleged financial irregularities.
Irate commuters and local residents also held regular demonstrations against the traffic congestion and demanded the removal of tolls.