India gang rape in Haryana: Three men sentenced to death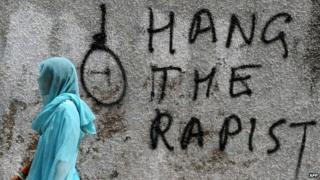 Three men have been sentenced to death by a court in the Indian capital, Delhi, for the abduction, gang rape and murder of a 19-year-old woman in 2012.
The woman's mutilated body was found in the neighbouring state of Haryana, three days after she had been abducted.
There has been growing alarm at sexual violence in India since the 2012 fatal gang rape of a student on a Delhi bus.
But violence and discrimination against women remain deeply entrenched in India's staunchly patriarchal society.
Government crime data shows that a rape is recorded every 22 minutes in the country.
In his order on Wednesday, Additional Sessions Judge Virender Bhat said he was sentencing the men to death as the case "fell in the category of rarest of rare".
"Death to all three - Rahul, Ravi and Vinod," the Press Trust of India quoted him as saying.
The three men have been prosecuted under tougher new laws on rape and sexual violence that were introduced last year after widespread protests following the Delhi student's gang rape in December 2012.
The rape shocked Indians and prompted protests across the country.
The 23-year-old medical student was attacked on a bus while she was returning home after watching a film with a male friend who was also beaten up. She later died in hospital.
Four of the six attackers were given the death penalty last September. A fifth adult suspect was found dead in his prison cell earlier this year before he could be tried.
The sixth member of the group, a juvenile at the time of the crime, is serving a three-year sentence.