Why decision to free Rajiv Gandhi killers is a political masterstroke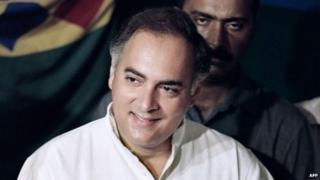 Tamil Nadu's decision to free seven people convicted of plotting the assassination of former Prime Minister Rajiv Gandhi is being described by many as a political masterstroke by the ruling state government.
The mercurial J Jayalalitha, who heads her ruling regional AIADMK party government, lost no time in taking a cue from the Supreme Court's ruling on Tuesday commuting the death sentences of three of the convicts, which cited federal government delays in deciding their mercy pleas.
With barely a few months to go until what promises to be closely fought general election, Ms Jayalalitha will be hoping that the move will gladden the vast majority of Tamil voters, who have been sympathetic to people of Tamil ethnicity in Sri Lanka and protested against Colombo's human rights record.
Gandhi's murder in May 1991 was seen as retaliation for his decision to send Indian peacekeepers to Sri Lanka in 1987.
Even Congress party leaders have been circumspect about the top court's landmark ruling on Tuesday commuting the death sentences of those who were involved in killing their top leader.
"I am not unhappy [by the court's decision]. Our grief at Rajiv Gandhi's loss is irreparable but the court made it possible. I do not see this as cynical politics," senior federal minister P Chidambaram told NDTV news channel. He can ill afford to offend local sentiment as he is an MP from Tamil Nadu.
In November last year, Indian PM Manmohan Singh had to boycott the Commonwealth summit in Colombo, bowing to pressure from Tamil politicians in India over Sri Lanka's human rights record.
Earlier in March, Ms Jayalalitha's government decided not to host Indian Premier League (IPL) games featuring Sri Lankan players in the capital Chennai, to protest about Colombo's rights record. (One newspaper called it an example of "chauvinism at its best".)
And in September 2012, Ms Jayalalitha's government sent back a school football team from Sri Lanka who were in Chennai to play a friendly match - she said by giving them permission to play in India, the federal government had "humiliated the people of Tamil Nadu".
That's not all. Two defence personnel from the Sri Lankan army who were undergoing training in Tamil Nadu were ordered to leave in 2012. Also, in 2013, the DMK, a key ally of the ruling Congress government and the main opposition party in Tamil Nadu, withdrew from India's ruling coalition over its failure to acknowledge alleged atrocities against Sri Lankan Tamils.
All this would explain why there is little outrage over Ms Jayalalitha's decision to free the convicts. Some social media users have described it as a shocking example of the lengths to which cynical politicians will go to win elections. They say politicians forget that more than a dozen people died along with Rajiv Gandhi on that fateful night night in May 1991.
More importantly, they also point out that the wife of Afzal Guru, a Kashmiri man who was executed in 2013 for the 2001 attack on India's parliament, openly wonders why her husband wasn't shown the same consideration as the killers of Mr Gandhi.