Delhi just a stepping stone for Arvind Kejriwal?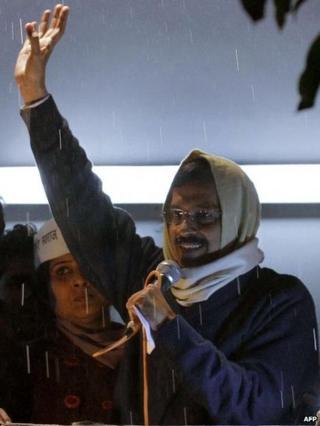 The only surprise about Arvind Kejriwal's resignation as Delhi's chief minister would have been if he hadn't gone.
His actions since taking over the job only six weeks ago have all pointed this way - including the final showdown over his anti-corruption bill.
Delhi looks more than ever like a stepping-stone for his bigger, national ambitions.
His Aam Admi (Common Man) party is already contesting more than two-thirds of the seats in the spring elections.
Now Mr Kejriwal can lead his campaign nationwide.
He never really stopped being a protester - and never really looked comfortable as a politician - at least, not yet.
Calling time
His short time in office since his spectacular electoral breakthrough last year was mostly devoted to his bigger agenda of tackling corruption rather than governing Delhi - and laying down symbolic markers.
Whatever happens to him, people will remember Mr Kejriwal as the man who called time on politicians' perks, like vainglorious motorcades and villas.
Look at his 49 days in office and almost all the big moments happened outside it.
There was a public meeting to hear people's grievances. It was abandoned after too many people turned up. Chaos, said his critics.
But Kejriwal, wrapped in his trademark scarf and drab sweater, had won the symbolic point. He looked like the man of the people, reaching out to the common man.
And look at how everyone's copied him since: from Narendra Modi's BJP new tea-party offensive to the Congress' Rahul Gandhi's slightly more tepid appearance before an audience of railway porters last week.
Then there was Mr Kejriwal's sit-down protest in central Delhi. Ostensibly, it was about winning greater control over the city's police - something the central government was never going to give up
Mr Kejriwal brought the government district to a standstill. Traditionalists were outraged: how could a chief minister behave like this?
"I'm an anarchist," Mr Kejriwal replied. But just two days later, he called it all off - not even close to achieving his goal. Yet he'd won the symbolic point again - looking like the man standing up to the big, bad elite.
Question marks
Just days ago, probably already planning his exit, he had another go at the elite - this time at the cosy nexus between the government and India's richest man, Mukesh Ambani, accusing them of ripping off consumers for their gas.
Now he can make all these waves on a national stage. Will it work?
India has seen revolutionary new politicians before, like Jayaprakash Narayan. For a while, his promise of a "peaceful total revolution" galvanised a nation sick of the excesses of Indira Gandhi's emergency rule and pushed her from power.
But then his movement fizzled and Congress returned to power again
This time round, all the signs still point to the BJP, the other big establishment party, winning the next elections.
And Mr Kejriwal still has many question marks against him, about who he really is and what he stands for.
But Indians are so sick of the politicians they know that they're still prepared to give the one they don't a chance.
So for Delhi's shortest-lasting chief minister, this looks like just the beginning.