Delhi to investigate Mukhesh Ambani and ministers over gas prices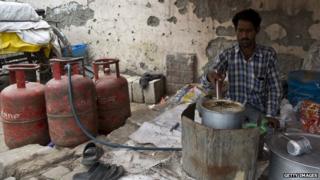 The chief minister of Delhi has called for India's richest man and several senior politicians to be investigated for overcharging consumers for gas.
Arvind Kejriwal accused Reliance chief Mukesh Ambani of colluding with Petroleum Minister Veerappa Moily and his predecessor Murli Deora.
Mr Moily and Reliance rejected the charges. Mr Deora is yet to comment.
Correspondents say it is the latest move in a growing campaign targeting India's elite for alleged corruption.
Mr Kejriwal's Aam Aadmi Party (AAP) - or Common Man party - was born out of an anti-corruption movement that swept India two years ago and made an impressive debut in the recent Delhi state elections. The party is now getting ready for the general elections due in the spring.
With a new broom as his party symbol, Mr Kejriwal is stepping up his ambitious campaign to sweep away corruption in India and this time he is targeting what is often seen as a far too cosy nexus between business and politics, Andrew North, BBC correspondent in Delhi, says.
'Ignorance'
"Today we have asked the ACB [anti-corruption bureau] to probe the case. We are filing a criminal case against [former Petroleum Minister] Murli Deora. FIRs [police complaints] are being filed against [Mr] Moily, [Mr] Mukesh Ambani... and others," he told a press conference on Tuesday.
Mr Kejriwal alleged that Reliance benefited as the oil ministry decided to hike the natural gas prices from 1 April.
He alleged that the company did not produce adequate gas from the Krishna-Godavari basin, on the east coast of India, to put pressure on the government to raise the price.
In a statement, Reliance called the decision to begin an investigation "shocking", adding the claims were "completely baseless".
The petroleum minister also rejected Mr Kejriwal's allegations.
Prices of petroleum products are fixed as per expert advice, Mr Moily said.
"I think I should sympathise with his [Mr Kejriwal's] ignorance. He should know how the government functions, how these things are done," he added.
Last June, the Indian government said natural gas prices would be doubled from April.
The Cabinet Committee on Economic Affairs said the price of domestically produced natural gas should rise to $8 per unit from the current $4.20.
The government said it hoped the first rise in the price of gas for three years would increase investment in the sector.
The increase would have a knock-on effect on the cost of electricity, transport fuel, fertiliser and cooking gas.
Indian state energy companies welcomed the news, saying the rise would increase investment within the sector and help to attract money from outside.
But some opposition parties criticised the price increase, saying it would lead to accelerating inflation and higher costs for farmers.