Delhi leader Arvind Kejriwal threatens to quit over corruption law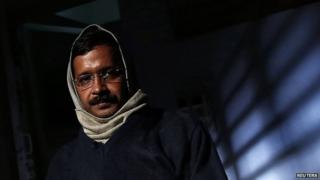 Delhi Chief Minister Arvind Kejriwal has said he will quit if a proposed anti-corruption law is not passed in the state assembly later this week.
The legislation will help create a Citizens' Ombudsman, or Jan Lokpal, an independent body with the power to investigate politicians and civil servants suspected of corruption.
Mr Kejriwal's Aam Aadmi Party governs Delhi supported by the Congress party.
He took over as Delhi's chief minister last month.
There is uncertainty over the Jan Lokpal bill after a row over whether it needs the consent of the federal government before it can be tabled in the Delhi assembly.
Mr Kejriwal has written to Federal Home Minister Sushil Kumar Shinde asking him to withdraw an order from 2002 making federal consent compulsory for laws introduced into Delhi's assembly.
"The Jan Lokpal bill is very important for me. If it is not passed in the Delhi assembly, I will resign," Mr Kejriwal said on Sunday, adding that it it would be tabled in the assembly on Thursday.
The Congress party and the main opposition BJP oppose the move, calling it "unconstitutional" to table it in the assembly without federal consent.
Delhi Congress leader Arvind Singh Lovely said Delhi's Jan Lokpal bill had provisions which would "overlap" with a separate law for a federal anti-corruption ombudsman.
"So it is mandatory for the Delhi government get clearance [for the bill] from the central government. We will not allow any constitutional thing to happen," he said.
Correspondents say at the heart of Mr Kejriwal's demand is a struggle for control over laws in India's capital.
Last month Mr Kejriwal and his supporters staged an unprecedented sit-in protest in the city which was sparked by a row over who controls Delhi's police force.