India officials charged with Ishrat Jahan 'staged' killing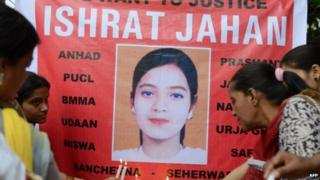 India's top investigation agency has filed charges against four intelligence officials in connection with the killing of a female student.
The Central Bureau of Investigation (CBI) told a court that the Intelligence Bureau officials killed Ishrat Jahan and three others in a "staged" clash in 2004.
The officials deny the allegations.
They say Ms Jahan and the others were part of a banned Pakistan-based militant group.
The killings took place in 2004 in Gujarat. Police maintained the four were militants who had been plotting to kill the chief minister.
But a court-appointed panel two years ago found that the group had been unlawfully killed.
A probe found that police had "kidnapped" Ms Jahan and three others in the city of Mumbai.
They were then taken to Ahmedabad, Gujarat's main city, and killed in "police custody", the probe said.
Last July, the CBI charged top Gujarat police officials in connection with the killings.
The CBI on Thursday charged former intelligence official Rajendra Kumar with the murder of Ms Jahan.
It also charged three other serving intelligence officials - T Mittal, MK Sinha and Rajiv Wankhede - with conspiracy, abduction and illegal confinement in connection with the killing.
India's Supreme Court has ordered an inquiry into at least 20 cases of alleged extra-judicial killings in Gujarat between 2003 and 2006.
Several top police officers and a former state minister are accused in some of the cases, referred to as staged gunbattles or "fake encounters".
In such encounters, security personnel shoot suspects held in custody but claim there had been an exchange of fire.