Golden Temple attack: India Sikhs demand raid documents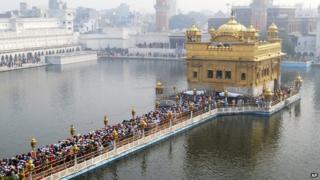 The main Sikh political party in India, the Akali Dal, has protested outside the parliament, demanding that the government declassify documents related to the 1984 raid on a Sikh temple.
It comes days after Britain said it advised India during the raid on the Golden Temple, the holiest Sikh shrine.
Hundreds died when the army stormed the shrine to flush out Sikh militants.
The attack sparked off a chain of events that led to the assassination of the then prime minister Indira Gandhi.
On Tuesday, the British government revealed that it had provided military advice to India in the months leading up to the raid but said that it had only "limited impact".
The UK government launched an inquiry last month after declassified documents were said to suggest Margaret Thatcher's government was involved in planning the raid, called Operation Blue Star.
Delivering the findings of a review, Foreign Secretary William Hague said UK assistance was "purely advisory" and given months beforehand.
Following the revelation, Sikh groups in India have demanded an apology from the UK.
They is also now increasing pressure on the government led by the Congress party, which was also in power during the assault on the Golden Temple, to declassify the documents relating to the raid.
Official figures put the death toll at 575, but Mr Hague said other reports suggested "as many as 3,000 people were killed including pilgrims caught in the crossfire".
The Sikh separatists at the Golden Temple in 1984 had been demanding an independent homeland - called Khalistan - in Punjab.
In October 1984 Indian Prime Minister Indira Gandhi was assassinated by her Sikh bodyguards in what was thought to be a revenge attack for what happened at the Golden Temple.
Anti-Sikh riots broke out across India soon after the assassination in which more than 3,000 people were killed.