Telangana: India parliament uproar over new state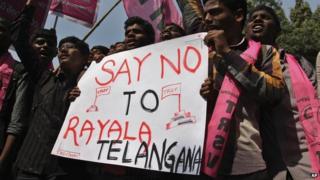 Proceedings in both houses of India's parliament were disrupted by angry exchanges over a controversial bill to approve the new state of Telangana.
The lower house was adjourned soon after it began a 12-day session, the last before elections due by May.
The ruling Congress party said it was confident the bill to create the new state in the south would be passed.
The government wants to put forward almost 40 bills during the session, including six to tackle corruption.
Prime Minister Manmohan Singh appealed to the opposition to cooperate in paving the way for the formation of Telangana.
"I sincerely hope that after a long debate spreading over many years, the house will in its wisdom be able to transact the business and pass the bill," he said.
The proposal is likely to be fiercely debated after lawmakers in the Congress party which governs Andhra Pradesh opposed splitting the state last month.
The move was seen as an embarrassment for the federal government. A final decision rests with the national parliament.
Andhra Pradesh Chief Minister Kiran Reddy travelled to Delhi to stage a protest and met President Pranab Mukherjee to urge him to abandon the plans.
Supporters and opponents of the new state also held separate demonstrations outside parliament.
Telangana, with a population of 35 million, would comprise 10 of Andhra Pradesh's 23 districts, including the city of Hyderabad.
Backers of the new state say the area has been neglected by the government.
Those against the idea are unhappy that Hyderabad, home to many major information technology and pharmaceutical companies, would become a shared state capital.
'Rise above politics'
Separately, the government has appealed to opposition groups to refrain from interrupting the parliamentary session and allow what it calls "crucial" bills to become law.
Reports say the current lower house of parliament has been the least productive in history, having passed the fewest bills.
The ruling Congress party has blamed the main opposition Bharatiya Janata Party (BJP) for disrupting proceedings and causing delays.
The BJP has denied the allegation, saying Congress should not "give sermons to opposition on disruptions in the parliament".
Parliamentary Affairs Minister Kamal Nath said the political parties should "rise above politics and pass six bills which deal with corruption".