Sachin Tendulkar receives top India honour Bharat Ratna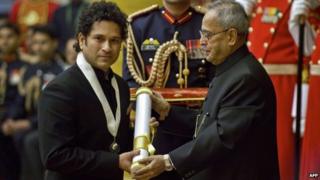 India's President Pranab Mukherjee has presented the country's highest civilian honour, the Bharat Ratna, to cricket legend Sachin Tendulkar.
Tendulkar quit international cricket in November following India's win over the West Indies in a Test in Mumbai.
Tendulkar is the first sportsman to win the award and - at 40 - the youngest.
Previous recipients include India's first PM Jawaharlal Nehru, Mother Teresa, Nelson Mandela and former PMs Rajiv and Indira Gandhi.
The award is made on a recommendation by the prime minister to the president.
President Mukherjee presented the honour to Tendulkar and leading scientist Prof CNR Rao at a ceremony at Delhi's presidential palace - or Rashtrapati Bhavan - on Tuesday morning.
"I will continue to bat for India even though cricket has stopped," Tendulkar was quoted as saying by the Press Trust of India after receiving the award.
Tendulkar had dedicated the honour to his mother Rajni when he was nominated for it hours after he announced his retirement last year.
Tendulkar bowed out of international cricket after his 200th Test match - 24 years and one day after his first.
He played in 664 international matches, scoring 34,357 runs and making 100 centuries. He scored almost 2,500 more Test runs than the second-placed batsman, Ricky Ponting.
Tendulkar was nominated to the upper house of parliament in 2012.