India 2G telecoms auction gets under way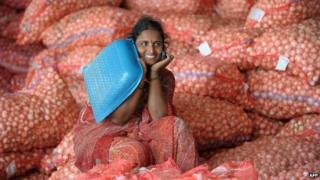 Mobile phone companies have begun placing bids in a key auction for India's second generation (2G) telecoms licences.
The auction is expected to deliver the government at least $1.8bn (£1.1bn) and could last a week.
Eight telecoms firms are bidding for pan-India licences covering 22 regions.
Two earlier attempts in 2012 and 2013 to sell the licences failed after the telecoms firms boycotted them, saying that starting prices were too high.
The previous licences were issued in 2008 by former telecoms minister A Raja, who is accused of mis-selling the bandwidth in what has been called India's biggest corruption scandal. Mr Raja, who is currently on trial for fraud, has denied any wrongdoing.
Government auditors said the scandal cost the country about $40bn (£24.5bn) and the Supreme Court in February 2012 cancelled 122 licences.
"The latest auction is important for the telecoms operators. Some of the licences are expiring in November 2014, so it is a crucial auction for those operators," Ranjan Mathew of the Cellular Operators' Association of India (COAI) told the BBC.
The auction has been marred by controversy as firms not only complained about the high base prices, but also alleged that the limited amount of bandwidth being offered had deterred many bidders.
Sale of faster third-generation (3G) licences in 2010 fetched India's government nearly $15bn.
India has over 900 million mobile phone connections, according to the COAI.