One held over 'hate' attack on Delhi women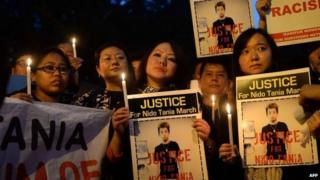 Police in the Indian capital, Delhi, say they have arrested one person in connection with an alleged attack on two women from north-eastern India.
The women from Manipur state say they were assaulted by a group of men in a busy area of the city on 25 January.
It comes amid uproar in Delhi over last week's beating and subsequent death of a student from the north-east.
The incidents highlight discrimination against indigenous minorities from India's north-east, observers say.
Reports said police arrested a 32-year-old resident of Delhi's Kotla Mubarakpur on Sunday in connection with the alleged attack after facing allegations of inaction and delay.
The two women complained that they had gone shopping in the area when they had an altercation with a man and were attacked by him and some other men.
They told the police that they were subjected to "racist comments" from local people when the incident took place.
Separately, three people have been held in connection with the death of 19-year-old student Nido Tania from Arunachal Pradesh state who was beaten on Wednesday by shopkeepers who had ridiculed his appearance. He died the next day.
He was the son of a member of the Arunachal Pradesh state assembly.
Hundreds of people protested against the attack in Delhi over the weekend.
India's north-east is home to many different ethnic groups, most of which are related to the peoples of Burma and China. They often say they encounter racism and discrimination in the rest of the country.