Popular Indian cars fail crash tests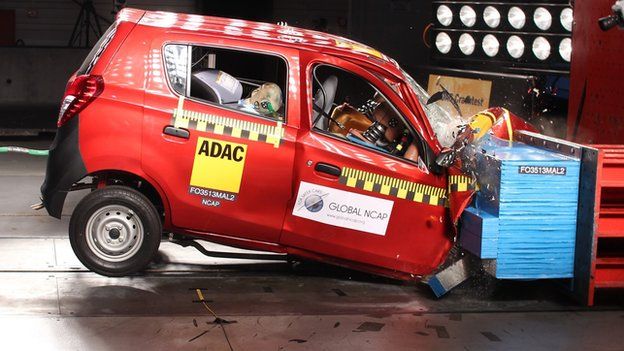 Five of India's most popular small cars have failed crash tests conducted by a UK-based car safety watchdog.
The tests by Global NCAP showed that if involved in a crash, fatalities or serious injuries could result.
Among the cars tested was India's talismanic Tata Nano, the world's cheapest car, as well as models made in India by Ford, Volkswagen and Hyundai.
The cars were apparently stripped of safety features to make them cheaper for Indian buyers, correspondents say.
The five models accounted for 20% of all sales in the country last year. Estimates say that about 80% of the cars sold in India have price tags of under $8,000 (£4,800).
"It's worrying to see levels of safety that are 20 years behind the five-star standards now common in Europe and North America," said the head of NCAP Global, Max Mosley, the former chief of international motorsport.
Those car manufacturers who have spoken out since the safety tests have insisted that safety is of paramount importance and that they will be reviewing the NCAP's test results.
The car safety watchdog put five models through crash tests, including the Suzuki-Maruti Alto 800, the Tata Nano, Ford Figo, Hyundai i10 and Volkswagen Polo.
None of these entry-level cars sold in India is fitted with airbags. They also lack the safety standards that the same models have when sold in North America and Europe, according to the watchdog.
"Poor structural integrity and the absence of airbags are putting the lives of Indian consumers at risk. They have a right to know how safe their vehicles are and to expect the same basic levels of safety as standard as customers in other part of the world," Mr Mosley added.
As a result of the tests, Volkswagen has withdrawn its Polo model without airbags.
Volkswagen also said the airbags, as well as anti-lock brakes, would become standard from 1 February along with a 2.7% price increase to offset the costs, the Associated Press (AP) news agency reports.
"We are proud to be leading the cause of driver safety," Arvind Saxena told AP.
A Ford spokesperson told the BBC: "Safety is one of the highest priorities in the design of our vehicles. Our vehicles consistently meet or exceed applicable industry safety standards.
"We are monitoring the progress of this review and will work with Indian authorities, GNCAP and the other relevant stake holders as appropriate."
Tata has said it is looking at the Nano's structure for ways to improve its strength, having already added power steering and other features, AP adds.
India's growing middle class has helped fuel a massive boom in car sales but they are also always looking for a good bargain, the BBC's Sanjoy Majumder in Delhi reports.
But India also has more road accident deaths than any other country - put down to bad roads, poor driving but also, it appears, unsafe cars.
Every year, tens of thousands of people are killed on the country's roads and the numbers have been rising steadily - nearly 140,000 people were killed in 2012, according to the government's National Crime Records Bureau.
According to NCAP, it is estimated that 17% of these deaths are of car passengers.