Boat capsizes in India's Bihar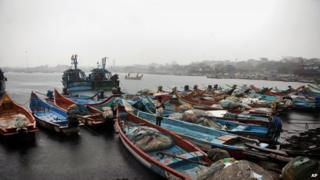 At least three people have drowned and six others are missing after a boat capsized in the Ganges river in the eastern Indian state of Bihar.
The victims were all women, who were on their way to work on farms in the neighbouring state of Uttar Pradesh.
Thirteen women were rescued when the boat, also laden with vegetables, sunk in Buxar district late on Tuesday.
Boats in India are often overloaded, and lax safety standards mean accidents are common on the river.
Buxar police official Babu Kumar told BBC Hindi that the boat was carrying 22 women workers when it capsized.
Three bodies were recovered by divers and 13 passengers were recued, he said and added that six women were still missing.
On Sunday, 21 people were killed when a tourist boat capsized off India's Andaman and Nicobar Islands in the Bay of Bengal.
Last July, 11 people drowned after a boat capsized in the flooded Kosi river in Bihar. Twenty-four others swam to safety.
In 2012, 108 people died after a ferry capsized during a storm in Assam.
In October 2010, at least 36 people died after an overloaded boat sank in the Ganges river in Bihar.
In 2009, a tourist boat carrying 76 people capsized in a lake in Kerala, killing at least 37 people.