Rahul Gandhi predicts India poll win in first TV interview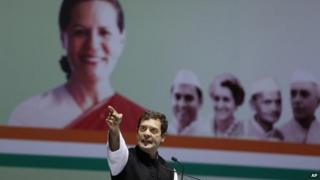 Rahul Gandhi has given his first major TV interview, predicting he would lead his ruling Congress Party to victory in this year's Indian general election.
The Gandhi family has dominated Indian politics but Rahul vowed to open up the system, saying he was "absolutely against the concept of dynasty".
He told Times Now TV he did not fear rival Narendra Modi, attacking him over his role in anti-Muslim riots in 2002.
Polls show Congress doing badly, amid a slow economy and corruption scandals.
Although Congress has named Mr Gandhi, 43, to lead its general election campaign, it has stopped short of saying he will be its candidate for prime minister.
Correspondents say the move appeared aimed at protecting one of the party's main assets, in case the party loses the vote, which is due by May.
'Scared of nothing'
But in the interview, Mr Gandhi said Congress was simply following the constitution.
"Members of parliament are to be elected by the population and members of parliament are to elect the prime minister. All I am doing is respecting that process," Mr Gandhi said.
When asked about his chances of victory, he said: "I will win the election."
Mr Gandhi added: "If we don't win, I am the VP of the party; of course I will take responsibility for it."
The main opposition Bharatiya Janata Party (BJP) named Mr Modi - Gujarat's chief minister - its candidate for PM last September.
The latest opinion polls suggest the BJP is extending its lead, with Congress projected to lose half its seats.
The BBC's Sanjoy Majumder in Delhi says Rahul Gandhi has been in the political limelight for 10 years but had never agreed to be interviewed until now, although this TV showpiece was long and, at times, rambling.
Mr Gandhi attacked Mr Modi over the anti-Muslim riots in Gujarat in 2002.
The rioting, sparked by the death of Hindu pilgrims in a train fire, was among India's worst outbreaks of unrest, killing more than 1,000 people, mostly Muslims.
Mr Gandhi said: "The Gujarat riots took place, people died. Mr Narendra Modi was in charge of Gujarat at that point... the government in Gujarat was actually abetting and pushing the riots further."
Mr Modi has been cleared of any personal wrongdoing. He has always denied his government encouraged the attacks.
When asked if he was scared of Mr Modi, Mr Gandhi cited his own family history.
"In my life I have seen my grandmother die, I have seen my father die, I have seen my grandmother go to jail and I have actually been through a tremendous amount of pain as a child when these things happen... There is absolutely nothing I am scared of."
However, Mr Gandhi stressed that he opposed dynasties in politics, saying his goal was to empower women and younger people, and open up the political system.
He said: "I didn't choose to be born in this family... I am absolutely against the concept of dynasty. But you are not going to wish away dynasty in a closed system, you have to open the system."
Mr Gandhi defended Congress's achievements on economic growth, political openness, the rural "right to work" programme and improving social welfare payments.
He said: "I don't like unfairness. It just makes my blood boil. I don't like it. And in whatever I did, if I saw unfairness, I would stand up against it. That's the heart of my politics."