Tata Motors' Karl Slym probably killed himself - Thai police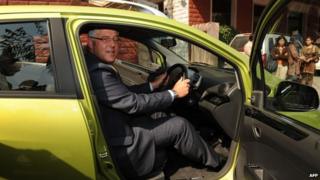 Thai police suspect Tata Motors' Managing Director Karl Slym killed himself when he fell from the 22nd floor of a Bangkok hotel on Sunday.
The British executive was in Thailand to attend a board meeting of the company's local affiliate.
Investigators believe Mr Slym may have taken his own life because of a note left in his room referring to domestic problems.
Police said it was being analysed to confirm Mr Slym wrote it.
Thai police said they were called to the Shangri-La hotel around 07:45 (00:45 GMT) on Sunday, after staff found Mr Slym's body on the fourth floor, which juts out above lower storeys of the luxury complex.
They then woke up Mr Slym's wife, who seemed shocked, they said. The couple had been married for about 30 years and did not have any children.
In a statement, Company Chairman Cyrus P Mistry paid tribute to Mr Slym, describing him as "a valued colleague who was providing strong leadership at a challenging time for the Indian auto industry".
"In this hour of grief, our thoughts are with Karl's wife and family,'' he said.
Aged 51, Mr Slym led the carmaker's operations in India and international markets including South Korea, Thailand and South Africa.
He was not responsible for the Jaguar and Land Rover luxury unit that Tata Motors acquired in 2008.
Mr Slym, who was from Derby, England, had worked for Toyota in the UK, and then General Motors in India and China.
He had been managing director of Tata Motors, part of the giant Tata Group, since being hired in October 2012 to revive Tata's flagging sales in India.
Tata Motors recently introduced a new petrol engine for its passenger vehicles and was planning to launch a hatchback and compact sedan this year, the first all-new Tata-branded passenger vehicles since 2010.
Following news of Mr Slym's death, Tata Motors stock closed down 6% at 347.8 rupees.
'Not possible' he slipped
Police official Somyot Boonyakaew said investigators "didn't find any sign of a struggle" in the room Mr Slym was sharing with his wife in the Shangri-La Hotel.
"We found a window open. The window was very small so it was not possible that he would have slipped," he told Reuters news agency.
"He would have had to climb through the window to fall out because he was a big man. From my initial investigation, we believe he jumped."
Tata Motors has declined to comment on the possible cause of Mr Slym's death.
Friends have described Slym as a jovial man who loved cricket and Indian films.