India tribal villagers deny 'gang rape' took place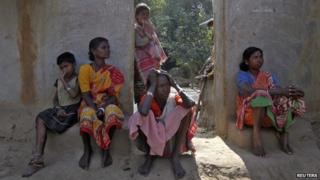 The village of Rajarampur-Subalpur is like any other in this "land of red soil," several kilometres from the Labhpur Road in Birbhum district of West Bengal.
It is not very far from the Shantiniketan university town of India's first Nobel Laureate Rabindranath Tagore.
It is a tribal village, and most of the houses are made of mud. The people who live here are not affluent, but nor are they extremely poor.
Every one of them is happy to show you the home of the village headman, Balai Maddi.
It is a two-storey mud house, with a corrugated sheet roof. A courtyard in front is full of haystacks. A small thatched room stands in front of the house. The police have cordoned it off.
Inside the dimly lit room is a locally made cot and a mosquito net. The policemen told me that this was the "place of occurrence".
That's police terminology for the spot where a crime has been committed.
According to the complaint lodged with police by a 20-year-old tribal girl, she was gang-raped by 12 men inside this thatched room.
On Saturday, forensic scientists visited the room to collect samples and search for evidence with ultra-violet light.
We know from the police complaint that after the girl and a boy from outside the tribe were "accused" of being in love, they were brought to this courtyard, tied up to a tree, and a kangaroo court was summoned.
The couple were fined. The headman allegedly ordered the gang rape of the girl when she failed to pay up.
When I asked a couple of villagers around the headman's house, their staple reply was: "I don't know anything about it."
Others said they had only heard about the incident and would not comment.
'Conspiracy'
About 100m from the headman's house, I overheard a lady discussing the incident, and persuaded her to talk to me.
She opened up but refused to give her name. Her son has been arrested by the police in connection with the incident.
"Believe me, there was no rape on the girl. Some kind of conspiracy is going on," she said.
I asked her for more details. She said: "This girl and her family had been repeatedly warned not to indulge in an affair outside the community.
"She didn't pay any heed. On Monday evening we caught her red-handed along with the non-tribal boy.
"They were on the bed at the girl's house. We brought them to the headman's house and tied them to a tree.
"A salishi sabha [village court] was summoned for the next morning. Men and women, including me and my son, kept a vigil on the couple throughout the night.
"No-one raped her that night."
The kangaroo court decided on a fine of 25,000 rupees ($400; £240). The boy's family paid up, the woman said, and the couple were allowed to go.
While we were talking, a couple more women gathered around. They said the girl was taken back home by her elder brother.
"She was at her home throughout the day on Tuesday.
"On Wednesday we saw her riding a bicycle. Her mother was accompanying her.
"In the late evening, policemen came to the village and picked up our men. We heard that she has filed a complaint of gang rape."
Aarti, one of the women, said, "Had she been raped by 12 men, as a woman, I can say she wouldn't have been able to even walk properly - forget riding a bicycle.
"She has made up the entire story and our menfolk are suffering."
Tribal villages are closely knit communities, and they normally speak with one voice.
The women took me to the victim's house. There was a courtyard, with two rooms on one side - both locked. Some used clothes and a pair of shoes lay outside.
Posters of film heroes and heroines covered the outer wall of one of the rooms.
The girl had worked as a housemaid in Delhi for three years and returned a few months back, the locals said.
The girl was working with the boy - a mason - as his helper, villagers said.
I later found out that the victim's alleged lover is a married man - with a son and a daughter.
Fine
He had left his Chouhatta village home on Tuesday after paying the fine.
His wife Hasina Bibi told me that their 15-year-old daughter was supposed to get married and they had had to sell off a gold chain meant for the marriage in order to get money to pay the fine.
When I was at the victim's house, a boy was listening to my conversation with the local women.
He turned out to be Som Murmu - the youngest brother of the victim.
Som lives with his in-laws in a neighbouring village. He heard about his sister's ordeal later, from his mother and his sister.
I asked him why he thought the other women are giving out a completely opposite account to that of his sister.
Som Murmu said he believed that his sister had indeed been tortured.
"Why would she make up a story?" he retorted.
Later, when West Bengal's Minister for Women and Child Development, Dr Sashi Panja, visited the victim at Siuri Government Hospital, reporters asked her about the villagers' version of the incident.
The minister replied, "In such complaints, the victim's version is given utmost importance.
"And as it's a medico-legal case, the test reports are strictly confidential. Even I haven't seen those reports."
The administration has become extremely tight-lipped since the villagers started speaking up.
'Trauma'
Normally, police and doctors are not this reticent in confirming a rape incident. The head of the five-member doctors' team which is treating the girl, Dr Asit Biswas, reiterated the minister's version.
He said: "The medical test reports are confidential and would be submitted to the police only. However much you try to get something out of me about whether she has been raped or not, I won't utter a word.
"What I can tell you, the girl is much better now. Blood tests and ultrasounds have been done; some more tests are in the pipeline.
"She was complaining about a pain in her lower abdomen. She is doing fine now.
"What she needs most is psychological counselling. She is yet to come out of the trauma", said Dr Asit Biswas.
He became tight-lipped once more when asked what she is being treated for. Earlier, he had said that the initial examination had shown she had been raped.
I met Alok Rajoria, who took over as superintendent of police on Friday evening after his predecessor C Sudhakar was removed and sent on compulsory leave.
"I have heard that villagers have a different version. The accused are residents of that village; it's natural.
"But we haven't explored that version as yet. It's not a requirement as of now.
"Right now, our focus is to interrogate the arrested persons, and reconstruction of the crime," Mr Rajoria said.
When asked about any initial finding, whether the victim has been raped or not, Mr Rajoria said, "That's what she has written in the complaint. We are investigating."
It's extremely hard to make out who is telling the truth.