Indian media: Outrage over West Bengal gang rape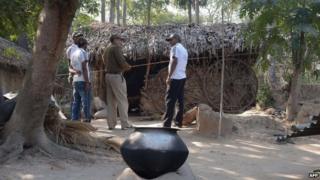 Media in India are expressing outrage over the gang rape of a woman by 13 men in the eastern state of West Bengal, allegedly on orders of village elders who objected to her relationship with a man from a different community.
The 20-year-old woman has been admitted to a hospital.
The incident has put the spotlight on India's illegal "community justice" system. Unofficial courts in India's villages often sanction killings of couples deemed to have violated local codes.
"This incident should be a sobering warning to all those who speak indiscriminately and glowingly of community justice, or believe that 'the people' should decide on matters of crime and punishment or other social issues," The Indian Express says.
Calling it a "Taliban-like diktat", the Hindustan Times says "it's time West Bengal Chief Minister Mamata Banerjee… ensured that strict action is taken against the culprits and sent a strong message that such parallel courts have no place in democratic society".
Hindi daily Amar Ujala says it is "unimaginable" that a panchayat (village council) can go to this extent.
Meanwhile, the Delhi police have announced that a special team from its crime branch will investigate the death of the wife of Indian minister Shashi Tharoor.
Doctors said on Tuesday that Sunanda Pushkar, whose body was found in a hotel room on Friday, may have died from an overdose of drugs.
"We are going to take a fresh look at the case and all angles will be investigated," a senior crime branch officer told The Times of India.
Meanwhile, the Aam Aadmi Party (AAP) government in Delhi has decided to back the controversial Law Minister Somnath Bharti amid growing pressure for his resignation in the wake of his midnight raid on a house.
Television footage showed Mr Bharti ordering police officials last week to raid a house whose inhabitants, women from Uganda, were suspected of involvement in prostitution and drug use. But police refused, saying they had no legal warrant.
"There is no evidence that Bharti misbehaved or was racist... We will take action against him if the inquiry shows there was wrongdoing on his part," the Hindustan Times quotes AAP leader Yogendra Yadav as saying.
Black money
Meanwhile, the ministry of external affairs has found that several Indians employed by the US embassy in Delhi and its consulates in Chennai and Hyderabad are being "underpaid" and "facing discrimination", the Hindustan Times reports.
The move comes amid tense ties with Washington over the arrest of Indian diplomat Devyani Khobragade in New York last month on charges of visa fraud and of underpaying her maid.
She is now back in India after an apparent agreement with Washington.
In business news, newspapers have hailed the Reserve Bank of India's (RBI) decision to withdraw all currency notes printed and issued before 2005.
"Sceptics can still point out that not all black money is held as cash... While that may be true, the fact remains that the RBI's move will make life difficult for those who have hoarded currency notes," says The Hindu.
And finally, the Supreme Court has criticised the federal government over its suggestion to construct underpasses and flyovers for safe passage of elephants to reduce deaths on railway tracks in forests, The Times of India reports.
"Why not put up a road sign to inform the pachyderms to use these as safe paths," the court said derisively.
In the last 10 years, 122 elephants have died - 15 knocked down by trains and 107 due to electrocution, the report says
BBC Monitoring reports and analyses news from TV, radio, web and print media around the world. For more reports from BBC Monitoring, click here. You can follow BBC Monitoring on Twitter and Facebook.