Delhi leader Arvind Kejriwal has medical tests after sit-in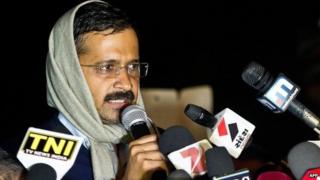 Delhi Chief Minister Arvind Kejriwal has undergone a series of tests in hospital, with reports suggesting he is suffering from acute bronchitis.
On Tuesday night, Mr Kejriwal called off a 33-hour street protest in the Indian capital, sparked by a row over who controls Delhi's police force.
He spent Monday night sleeping out in the open and conducted business with cabinet members from the street.
Meanwhile, police have filed a case against his supporters over the sit-in.
The police complaint accuses supporters of Mr Kejriwal's Aam Aadmi Party (AAP or Common Man's Party) of defying prohibitory orders, violence and inciting a mob.
The complaint - known as a First Information Report (FIR) - is registered against unnamed people and does not mention the chief minister.
On Wednesday morning, Mr Kejriwal was taken to Yashoda hospital near his home in Ghaziabad, a suburb of the Indian capital, Delhi, where he underwent some tests.
"I came here to get my continuous cough treated. A scan has also been conducted," the Press Trust of India quoted him as saying.
The agency quoted a doctor as saying the chief minister had been advised to "take rest today".
Mr Kejriwal called off his protest on Tuesday night saying he had won concessions from central government.
The government, which commands Delhi's police force, agreed to send on leave two police officers Mr Kejriwal wanted suspended for failing to deal with an alleged drugs and prostitution ring - a charge denied by the police.
Mr Kejriwal's wider demands include police reform and transferring control of Delhi's police force from the federal authorities.
The chief minister also accuses the police of failing to protect women, following the fatal gang-rape of a student in December 2012.
His party performed unexpectedly well in state elections on an anti-corruption platform.
India's general elections are due by May and the party, only one year old, is expected to field a large number of candidates.
The AAP's street protest in Delhi received a mixed response - while some hailed it as a victory, others criticised it and urged Mr Kejriwal to get off the streets in order to govern as he was elected to do.
His sit-in caused congestion in central Delhi as police barricaded roads to the site, ahead of Sunday's annual Republic Day parade. Police clashed with protesters who had gathered to join him on Tuesday.