Indian media: Questions over AAP's 'chaotic' protest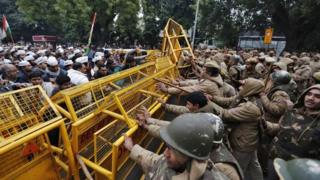 Media in India are assessing the damage a "chaotic" street protest may have caused to the Aam Aadmi Party's prospects in the upcoming general elections.
Delhi Chief Minister Arvind Kejriwal on Tuesday called off his sit-in protest in the city centre which was sparked by a row over who controls Delhi's police force.
His administration had accused the Delhi police, which is run by the federal government, of failing to deal with an alleged drugs and prostitution ring - an allegation senior officers have denied.
Led by Mr Kejriwal, the AAP was born out of an anti-corruption movement that swept India two years ago and made an impressive debut in the recent Delhi state elections.
But papers say the party's "anarchic" protest has sharply divided opinions over its potential as a national player in the country's politics.
"By holding the city to ransom until he called it off last evening, he was violating the mandate of those who voted for his party in the belief that he would place the public interest above political posturing," says The Hindu's editorial.
Most editorial writers feel the AAP should have fulfilled its poll promises before starting another street protest.
"Everyone expected the AAP to preside over a government with a difference. But no one quite thought that this would amount to protests and clashes with the police even as it got off the starting blocks," says the Hindustan Times.
The Deccan Herald says "the AAP should realise that straining the system beyond its limits would only be counter-productive".
But some political analysts think the party's style of protesting on the streets may still find support in smaller Indian towns and cities.
"Mr Kejriwal knows the country, which already shares anti-police sentiments, will support him. And this could help him in the upcoming Lok Sabha [lower house of Indian parliament] polls, even though it could hurt his government in Delhi," senior analyst Sandeep Shashtri told the Hindustan Times.
Milk kiosks
Moving on to other news, police have charged Bollywood actor Suraj Pancholi with abetting the suicide of his colleague and girlfriend Jiah Khan, The Times of India reports.
Khan killed herself at her residence in Mumbai on 3 June last year. Mr Pancholi, 22, was arrested after Khan's mother, Rabiya Khan, accused him of abusing her daughter.
He was later freed on bail by the Mumbai high court.
Mr Pancholi, the son of actor couple Aditya Pancholi and Zarina Wahab, denies the charges.
Meanwhile, a severe cold wave, aided by frequent rains, is continuing in several parts of northern India.
Several flights and trains have been delayed or cancelled in the northern cities of Delhi, Lucknow and Jaipur, the Hindustan Times reports.
And finally, dairy giant Amul is planning to open 24x7 milk kiosks to meet a surge in demand at odd hours.
"We launched this project because we found that people need milk at odd hours," the Deccan Herald quotes senior Amul official Rahul Kumar as saying.
BBC Monitoring reports and analyses news from TV, radio, web and print media around the world. For more reports from BBC Monitoring, click here. You can follow BBC Monitoring on Twitter and Facebook.