India's Arvind Kejriwal's 'anarchic' politics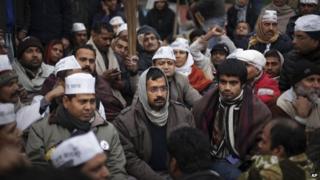 More than 60 years ago, BR Ambedkar, Dalit icon and one of India's greatest thinkers, spoke eloquently about the futility of the "grammar of anarchy".
He said India should abandon "bloody methods" of revolution, the method of civil disobedience, non-cooperation and satyagraha (people's movement) to achieve its social and economic goals.
"Where constitutional methods are open, there can be no justification for these unconstitutional methods," he said.
"These methods are nothing but the grammar of anarchy and the sooner they are abandoned, the better for us."
Arvind Kejriwal, the newly-elected chief minister of Delhi, apparently doesn't think so.
'Anarchist'
The leader of the anti-corruption Aam Aadmi Party (AAP), which made a spectacular debut in local elections last month, has begun an open-air stand-off over policing on a busy city road in a high security district in the capital.
He is demanding more control over police in Delhi, who come under the command of the federal government. Policing in other big cities comes under state control.
Mr Kejriwal's protest has shut down metro stations and disrupted public transport. Braving the cold, he slept on the road with his supporters on Monday night. His ministers are conducting government business and signing files while taking part in the protest. There have been scuffles between his supporters and the police. Delhi's government is now being literally run from the street.
Barring one example in the late 1960s - when the chief minister of West Bengal, Ajoy Mukherjee, launched a 72-hour hunger strike in a Calcutta park against his own coalition government for its failure to keep the peace - India has never seen the head of an elected government and his ministers leading a street protest.
Mr Kejriwal has also declared that he is an anarchist.
"Some people say that I am an anarchist and I am spreading disorder. I agree that I am an anarchist. I am India's biggest anarchist," he told reporters.
Mr Kejriwal has vowed to escalate his protest, prompting many critics, the media and even some supporters to wonder whether the street-fighting activist needs to mature into a more responsible leader. He has reduced governance, in the words of one newspaper, to a "chaotic street play".
Tuesday's headlines appeared to sum up the anxious mood. 'Delhi government goes missing', screamed one. 'Anarchist CM plunges Delhi into chaos', read a second. 'Delhi in disarray as anarchist CM takes his government to street', bemoaned yet another.
Many believe that Mr Kejriwal's demand is fair - the notoriously corrupt police in the Indian capital are not accountable to its elected leaders and report to the federal government, something which his confidante and AAP spokesperson Yogendra Yadav describes as an "absurdity in the structure of local government".
The two main national parties, Congress and the BJP, have also long demanded that the capital's police report to the local government, but, for some unknown reason, nothing changed. Mr Kejriwal believes he can make it happen through street protests.
"Why not?" wonders Mr Yadav, one of India's finest political scientists who joined Mr Kejriwal last year. "Street protests are a part of democracy. Contestations usually take place on the street. Actions are important. This is not anarchy."
But critics of the move believe that holding such street protests while they are in government will erode goodwill for Mr Kejriwal and his party.
The AAP tapped into popular disenchantment with the major political parties, viewed by many as amoral, cynical and corrupt. The party is seen as having brought a refreshing surge of youth, idealism, probity, imagination and energy to India's politics.
A recent poll in 18 of India's states found that more than half of voters knew about Mr Kejriwal's party; and some 18% were inclined to vote for it.
But many believe such formidable gains, which could easily make the AAP one the parties to watch out for in general elections due by May, could be frittered away by such street protests. "They should protest selectively and judiciously. And certainly not in this manner so soon after taking a major constitutional office," says historian Ramachandra Guha.
Anarchism is also unlikely to find many takers - India's people yearn for stability and its politics have a strongly centrist pull.
So will Mr Kejriwal's party turn out to be game changer or a flash in the pan?
It is too early to tell.
As Yogendra Yadav says, "We are inexperienced. We can be making mistakes. There is the danger of overestimating our support. But the protest over Delhi police is one limited intervention. We are more than that."
Actions, finally, will speak louder than words.