Shashi Tharoor urges swift probe into wife's death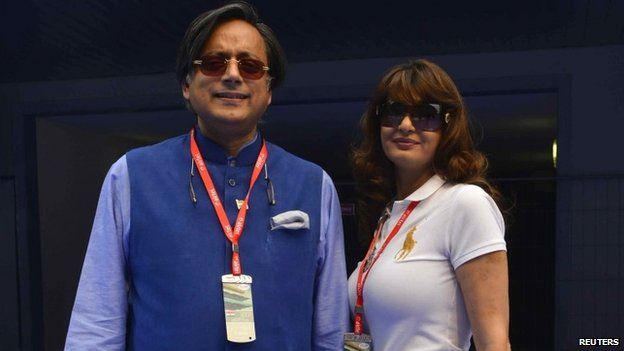 Indian minister Shashi Tharoor, whose wife was found dead in a Delhi hotel room on Friday, has called for a swift investigation so that the truth "emerges at the earliest".
He has appeared before a magistrate probing the death of Sunanda Pushkar.
An autopsy found "injury marks" on Ms Pushkar's body, but did not say if they were linked to her death.
The couple became embroiled in a row on Wednesday after Twitter messages suggested he was having an affair.
Mr Tharoor wrote to India's home minister over the weekend urging him to "issue instructions to the relevant authorities to expedite their investigations and come to a rapid conclusion so that the truth emerges at the earliest".
He said he was "horrified to read the reckless speculation" over the death in the media.
"I pledge my full and unstinting cooperation. Nothing short of the truth will end the indignity to which my wife and I are being subject at a time when all I seek is to be allowed to grieve in private with her and my near and dear ones," Mr Tharoor wrote.
On Sunday, Mr Tharoor gave his testimony to a magistrate who is leading the inquest into Ms Pushkar's death.
Doctors said the autopsy showed "certain injury marks on the body of Ms Pushkar, but the nature of these cannot be revealed".
They said that initial results showed no sign of poison in her body, but more tests would be carried out.
A public row broke out on Wednesday when seemingly private messages between Mr Tharoor and Pakistani journalist Mehr Tarar were published on his Twitter feed.
Ms Pushkar, 52, said she had gone into her husband's account and published the messages.
She accused Ms Tarar of stalking her husband - an allegation denied by the Pakistani journalist.
Ms Pushkar and Mr Tharoor later insisted they were happily married and blamed "unauthorised tweets" for causing confusion.
Mr Tharoor, a former UN diplomat, was forced to resign from his first ministerial position in 2010 amid controversy over his involvement in bidding for a cricket team.
Ms Pushkar had allegedly received a free stake in the Indian Premier League franchise he was bidding for.
He was appointed minister of state for human resource development in 2012.