Arvind Kejirwal in Delhi police stand-off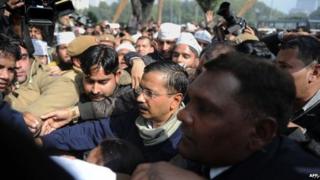 Delhi's Chief Minister Arvind Kejriwal is in a stand-off with police on a busy city road, after he was prevented from staging a protest at the office of India's home minister.
Police stopped Mr Kejriwal near India Gate and blocked roads leading to Home Minister Sushil Kumar Shinde's office.
He says his protest is about police refusing to crack down on a drug and prostitution ring - police deny this.
His anti-corruption Aam Aadmi Party has demanded more control over police.
Mr Kejriwal took over as Delhi's chief minister earlier this month after his party won 28 of the 70 seats in recent elections on a pledge to fight corruption and clean up politics.
But Delhi's police force is run by the federal government and so Mr Kejriwal was on his way to the home minister's office to demand the suspension of a number of policemen.
"We want all the people of Delhi to come here to protest against Delhi police," Mr Kejriwal said, adding that he and his supporters planned to continue their demonstration against police.
He accused the police of taking bribes from rickshaw drivers for minor offences, but doing little to fight lawlessness.
Indian Home Minister Sushil Kumar Shinde said a judicial inquiry on the role of the police had been ordered into the alleged incident involving a drug and prostitution ring and that Mr Kejriwal "should wait for its result" before protesting.
Vigilante accusations
Monday's protest was prompted by an incident last week when the Aam Aadmi Party became embroiled in a bitter row with police and members of Delhi's African community, that threatened to become a diplomatic issue.
Last Wednesday Mr Kejriwal's Law Minister, Somnath Bharti, and various party supporters allegedly confronted four Ugandan women in a Delhi neighbourhood accusing them of prostitution.
Media reports said a row erupted when police refused to search a nearby house for evidence of a suspected drugs and prostitution racket because they did not have a warrant.
Mr Bharti and Aam Aadmi Party supporters were accused of threatening and intimidating the women, forcing their way into homes and making racist remarks.
They deny allegations that they behaved like vigilantes and Mr Kejriwal told the Hindustan Times newspaper that this was not a "diplomatic issue. We are not against any race or country. We are against anti-social elements".
Nevertheless India's foreign ministry said in a statement over the weekend that the "incident was utterly condemnable" and assured ambassadors of some 20 African nations that authorities were not targeting their citizens.
But Mr Kejriwal says his protest encompasses more grievances than the latest confrontation.
His party is also demanding the suspension of a number of policemen - he alleges police refused to take action in one case involving the death of a woman, reportedly killed over a demand for dowry by her in-laws.
They have also condemned the police for their handling of another case involving the alleged gang-rape of a Danish woman in the city last week - six people have so far been arrested in connection with the attack.