Indian media: Congress, BJP war of words intensifies ahead of polls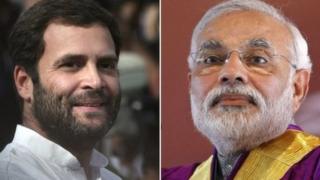 Media in India feel the war of words between the main opposition Bharatiya Janata Party (BJP) and the ruling Congress has intensified after hard-hitting speeches from their leaders.
While the BJP appointed controversial leader Narendra Modi as its prime ministerial candidate in September last year, the Congress seems to have "played it safe" by announcing Rahul Gandhi as its election campaign chief last week.
Mr Gandhi may not be the Congress' candidate for PM, but he is has certainly become his party's face in the campaign.
Taking note of the contest, the media have billed the upcoming elections as a battle between Mr Modi and Mr Gandhi.
The BJP leader on Sunday strongly criticised the Congress party and also outlined his "idea of India" in a feisty speech given at a meeting of his party's national executive.
The Hindustan Times says Mr Modi promised to develop "100 smart cities" if he is voted to become the country's next prime minister.
"Urbanisation should no longer be seen as the bane of our life but an opportunity to create facilities for all, particularly the poor," the paper quotes Mr Modi's as saying.
"Mr Modi on Sunday challenged rival Congress with his 'idea of India' that set out an ideological framework of equality and growth but which steers clears of doles, privileges and sectional giveaways," says the Times of India.
The Firstpost website says "Mr Modi used the opportunity (BJP's national council meet) to not only attack the Congress but to list his vision for the country".
Just three days ago, Mr Gandhi too delivered a "blistering" speech and criticised Mr Modi and the BJP's policies.
"Mr Gandhi on Friday exhorted party workers and leaders to get ready for the Lok Sabha (general) elections and not rest till the battle was won against a rival [BJP] which is good in marketing but very poor in delivering," the CNN-IBN website reported.
'Vigilante tactics'
Meanwhile, Mr Gandhi has asked Prime Minister Manmohan Singh to provide government recognition to Jains as a minority community, a move that would help them access funds for welfare programmes and scholarships for minorities, the NDTV website reports.
Mr Gandhi has promised to "do his utmost to ensure fair and equitable recognition and representation" for Jains, the report says, quoting a statement from the Congress.
The Jain faith believes in non-violence and compassion towards every living being.
Staying with political affairs, newspapers are criticising the "vigilantism" of the Aam Aadmi Party (AAP) government in Delhi after one of its ministers was seen ordering police officials to search a house without a legal warrant.
Last week, TV channels played footage showing law minister Somnath Bharti arguing with police officials outside the house and ordering them to raid it for evidence of prostitution and drug use.
Delhi Chief Minister Arvind Kejriwal has defended Mr Bharti and said his government will hold a protest demanding the suspension of the police officials.
The Asian Age says the AAP is "permitting its tradition of street agitations to degenerate into vigilante tactics" and that the minister's actions display a "fundamental disregard of the key properties of governance".
Columnist Santosh Desai, writing in The Times of India, says that the party's decision to defend Mr Bharti "tells us that a genuinely new political discourse is a long way off. Mobs are mobs, no matter who leads them."
Led by Mr Kejriwal, the AAP was born out of a strong anti-corruption movement that swept India two years ago.
And finally, a town called Bhabua in the eastern state of Bihar has painted itself green to match its heavily forested surroundings, a report in The Hindu says.
The town hopes to attract more tourists this way, the paper quotes local official Arvind Kumar Singh as saying.
BBC Monitoring reports and analyses news from TV, radio, web and print media around the world. For more reports from BBC Monitoring, click here. You can follow BBC Monitoring on Twitter and Facebook.