Why the Arvind Kejriwal effect is growing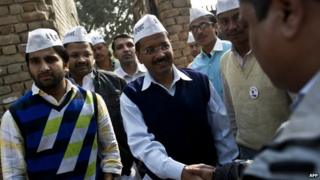 In his first two weeks in office, the new broom sweeping through Indian politics seems to be proving the old rule that if everyone's attacking you, you must be doing something right.
Or to put it another way, the new Delhi Chief Minister Arvind Kejriwal is showing just how much the established political order of the Congress Party and the opposition BJP is running scared.
After his first attempt at an open public hearing this weekend went a little awry, much of the India media were lining up to write it off as a chaotic disaster - many with links to big parties.
It may be that his Aam Aadmi Party with its spartan broom symbol is still too new and small to have much hope in the 300 constituencies it says it will contest in this spring's general elections.
'Historic'
But after its shock triumph in the recent Delhi state elections, the bigger, older parties are no longer prepared to leave that to chance.
This same weekend, Congress party supporters stoned buses carrying workers from his Aam Aadmi party and pelted them with black ink as they took their campaign to one of the ruling Gandhi family bastions.
Last week, right-wing thugs smashed up the Aam Aadmi's party's headquarters; another meeting was disrupted on Monday.
Mr Kejriwal's decision to hold an open public hearing, or janata durbar, was always bound to be more of a spectacle than new government in operation.
With many there wanting just to be seen and heard, rather than having much expectation of pressing their complaint in person, it was soon clear the police would struggle.
Seated behind a low-key plastic picnic table, his trademark scarf wrapped round his head, the leader of the Common Man Party was almost flattened by all the common people hoping to at least to shake his hand.
Less than an hour later, he had to beat a retreat under police guard.
Mr Kejriwal himself has since apologised, saying he left because he feared it could have become a stampede - and has for the moment called off such big events
But even so, it was far from the meltdown some reports suggested.
Some of his ministers seated at nearby tables carried on receiving complaints.
A few barricades came down, but as they hit the tarmac the people who tumbled through were cheerful rather than angry - there was no sign of the disillusionment that some have claimed.
If anything, what this durbar showed was how the Kejriwal affect is growing.
"Sachin [Tendulkar] left a void that can't be filled," tweeted one new supporter at the weekend.
"But Kejriwal filled a void we didn't know existed. That's truly historic. Epochal."
'Change is in the air'
Too many supporters showing up are a problem the beleaguered Congress Party can only hope for at the moment. Rahul Gandhi, its lacklustre campaign front man, has sometimes had to wrap up his speeches early because everyone was leaving.
Mr Kejriwal is drawing followers because he stands not just for cleaning up corruption but Indian politics in general - what he calls its 'VIP culture'.
Bars on his new ministers taking the plush government-issue residences or riding around in motorcades festooned with flashing red-lights have gone down well.
The comparison may be awkward but just like the new Pope, the affect of these symbolic actions is spreading.
The new chief minister in nearby Rajasthan - who also defeated the incumbent Congress party - has said the previously unthinkable that she wants to be stopped at red lights.
In fact, the Aam Aadmi Party leader is already having to backtrack a bit.
The commute to work on the Delhi Metro has gone, because of the chaos that caused.
Even though he has resisted so-called Z-level protection for VIPs, there is a lot more security around him now.
He may have turned down his posh government-issue bungalow, but there's little chance he'll stay in the cramped suburban apartment from where he planned his anti-corruption campaign.
There are plenty of warnings for him from that campaign two years ago.
While it initially got massive backing, particularly from a frustrated middle class, they soon melted away - many of them switching their allegiance to the BJP's candidate, the Gujarat Chief Minister Narendra Modi.
With their man's reputation for ruthless management, Modi supporters are hoping the same will happen again.
While Mr Kejriwal's symbolic moves have struck a chord, some wonder if he'll lose support once his economic policies get more scrutiny.
His decision on Monday to bar foreign retailers like Tesco from setting up supermarkets in the Delhi area is a reminder he's no fan of the unbridled capitalism some preach for India.
Commentators like Rajdeep Sardesai are drawing on history to remind the country it has been here before.
"Change is in the air," he writes. "The winter may have belonged to Kejriwal, but who'll take the summer?"
But for now, Mr Kejriwal is the man of the moment, transposed onto posters of Bollywood film stars and feted every where he goes.
"We came here because we want someone to hear our problems," said one elderly man who was struggling to pay for his medical care.
"And we believe he will listen."