India sexual harassment case: Supreme Court to investigate second judge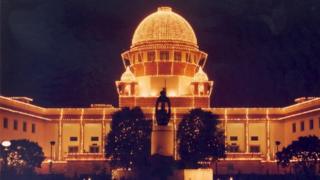 India's Supreme Court is to hear claims of sexual harassment levelled against a second retired judge.
On Wednesday a law intern will ask the court for an investigation into the alleged misconduct, which the judge denies and she says took place in 2012.
The fresh claims come after a scandal over another retired judge, who resigned last week as head of a human rights panel after weeks of pressure.
The judge in that case, AK Ganguly, denies sexually harassing his intern.
Correspondents say the charges against the judges have shocked India.
In the latest case, the law intern said on one occasion the former judge had placed his hand on her lower back when she was stepping out of his office.
"I felt quite uncomfortable and disturbed but I brushed it aside," she said in her complaint, which was carried by sections of the Indian media over the weekend.
On another occasion, she said, the judge "put his right arm around me and kissed me on my left shoulder".
"I was quite taken aback and shocked, and I excused myself and hurriedly left his room," the intern alleged in her affidavit against the judge.
He has described the allegations as false and "some kind of conspiracy".
The intern's demand for an investigation by the Supreme Court has received support from additional solicitor general Indira Jaising and several leading lawyers.
Last month, a Supreme Court panel investigating the allegations against Justice Ganguly said there was "prima facie evidence" of "unwelcome behaviour" by him.
But the court chose to take no action because the judge had retired when the alleged misconduct took place.
Pressure mounted on him to step down after the Indian Express newspaper made public the law intern's deposition before the court-appointed panel, in a bylined article by Ms Jaising on 16 December.