Indian media: AAP's poll bugle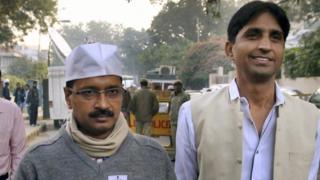 Media in India feel that the Aam Admi Party (AAP) has sounded its poll bugle for the upcoming general elections with a rally in Congress vice president Rahul Gandhi's constituency.
The AAP's Kumar Vishwas addressed a rally in Amethi district of the northern Indian state of Uttar Pradesh on Monday and urged people to give his party a chance to put an end to corruption in the country.
The AAP, or Common Man's Party, made an impressive debut in the recent Delhi assembly elections and formed a government with support from the Congress party with Arvind Kejriwal as its chief minister.
Mr Kejriwal, a former civil servant, formed the party after playing a crucial role in activist Anna Hazare's anti-corruption movement that swept India two years ago.
"Braving protests on Congress vice-president Rahul Gandhi's home turf, Mr Vishwas said on Sunday that he was firmly resolved to contest the next Lok Sabha (parliament) elections from Amethi," The India Today website reports.
The DNA newspaper says "Mr Vishwas seems to have earned the trust of a sizeable number of people in the Gandhi family's VIP borough of Amethi".
The constituency of Amethi has been traditionally won by the members of the Gandhi-Nehru dynasty.
But the Economic Times feels "the gambit thrown by the AAP on Sunday may upset Rahul Gandhi's national plans, even as the Congress is expected to declare him its prime ministerial candidate".
Meanwhile, former Indian cricketer Sachin Tendulkar has ranked fifth on a list of 30 most admired people in the world, according to a recent poll.
Five other Indians, including main opposition Bharatiya Janata Party's prime ministerial candidate Narendra Modi and former President APJ Abdul Kalam also featured in the list, The Economic Times reports.
Microsoft founder Bill Gates topped the rankings in a poll conducted in 13 countries by YouGov, a market research firm, the paper reports.
Cinema museum
Moving on to domestic news, the Hindustan Times says a gun supposedly designed for women to counter cases of sexual assault may not achieve its purpose.
"The idea of a gun (designed by The Indian Ordnance Factories) for women is a stupid one fraught with danger both to the victim and the offender," the paper adds.
The gun is named after the title of "fearless", or "Nirbheek", given to a 23-year-old girl whose rape and murder on a moving bus in Delhi on 16 December 2012 led to widespread protests in the country.
In some international news, Indian forces suffered the second-highest number of casualties while taking part in UN peacekeeping missions in 2013, reports the Deccan Herald.
A total of seven Indian soldiers were killed during UN missions in 2013, it adds.
"One reason for high Indian fatalities is that we have never been risk-averse in deployment," the paper says.
While acknowledging that "downsizing our peacekeeping involvement…is not an option", the least India can do is "play a bigger role in crafting the rules of peacekeeping", the paper adds.
And finally, movie fans will soon be able to visit a museum dedicated to Indian cinema, reports say.
"The Ministry of Information and Broadcasting is set to unveil a 6,000 sq ft National Museum of Indian Cinema in Gulshan Mahal, a heritage building on Pedder Road in Mumbai," The Indian Express reports.
BBC Monitoring reports and analyses news from TV, radio, web and print media around the world. For more reports from BBC Monitoring, click here. You can follow BBC Monitoring on Twitter and Facebook.