India orders DNA test on cows to settle ownership dispute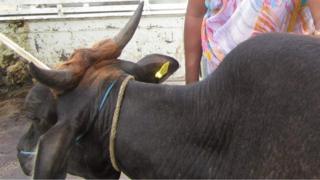 A court in southern India has ordered a DNA test on two cows to settle an ownership dispute between two women.
A woman, known as Geetha, alleges her cow was stolen by her neighbour TS Sashilekha, who says the cow is hers.
The court said the result of the cow's DNA test would be matched with one of Geetha's cattle which, she claims, is the mother of the disputed cow.
The blood samples of the two cows have been taken and results are awaited, police in Kerala state say.
"We are awaiting the DNA report from the Rajiv Gandhi Centre for Biotechnology [in the state capital, Trivandrum] where the blood samples have been sent," police sub-inspector G Raju said.
He described the case as the "rarest of rare incident".
The case began nine months ago when Geetha filed a petition in court accusing Ms Sashilekha of stealing her cattle.
"We have about 15 cows and one of these, Karthika, had given birth to the missing cow," Geetha said, adding that she hoped the DNA test would prove her claim over the cow.
"I am 100% confident that the cows are mine and I would appeal if the test results go against me," she said.
Many families in Kerala are farmers who also make a living through cattle-breeding. Also, cows are considered sacred by Hindus who worship them.