India gang rape victim's family meets president to seek justice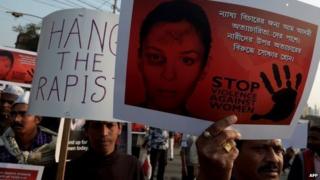 The family of a 16-year-old Indian girl who died after being gang-raped and set on fire in the eastern city of Calcutta have met the president to seek his help in their fight for justice.
A family member later told reporters the president had promised to help.
The family also met the head of the National Commission for Women and asked for an inquiry by the federal police.
The gruesome crime and the police's alleged mishandling of the case have led to days of protests in Calcutta.
The girl was raped on two separate occasions near her the town of Madhyamgram, first on 26 October, then when she was returning from filing a police complaint the next day.
Six men accused of raping her were arrested soon after.
Nearly two months later on 23 December, the girl was admitted to hospital with burns but succumbed to her injuries on New Year's Eve.
The investigating officer, Madhav Santosh Nimbalkar, told the media that the girl had told him that she had been set on fire by two people, allegedly close to the suspected rapists. Two men were later arrested.
Last week, the girl's father told BBC News: "Till my last breath, the sole aim of my life will be to get justice for her."
Her mother said her daughter had asked her to "make sure [the] people who did this to me are hanged".
The family has accused the police of a cover-up and of wanting to keep the case quiet.
The incident comes a year after the brutal gang rape of a student in Delhi that triggered huge protests across the country and forced the government to introduce tougher anti-rape laws.