India's tsunami-hit parents build new families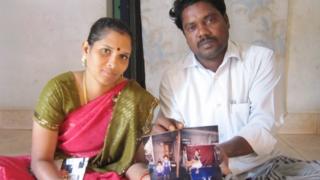 Bhagyalakshmi and her husband Shaktivel lost their children in the 2004 Indian Ocean tsunami. Bhagyalakshmi later underwent a reverse sterilisation operation which allowed her to become a mother again. Today, the couple live with three children in Nagapattinam in the southern Indian state of Tamil Nadu. BBC Hindi's Anubha Rohatgi met the 33-year-old Bhagyalakshmi to hear her story.
On the morning of 26 December 2004, after bathing my three children, I was taking a bath. I had no idea that the big wave had come. I still don't know what happened in the next moments.
It was only after sometime that I realised that maybe my children had died.
We didn't even find their bodies. My children were gone. I thought there was nothing left in my life after that. My husband tried to kill himself. We had to admit him in hospital.
I was sterilised, but we wanted to have children again. So we felt we should consult a doctor. I remembered that when I had the sterilisation operation, the doctor had told me that the procedure could be reversed.
So we went to Dr Kausalaya at Harini Hospital in Nagapattinam town. She ran some tests on me and told me that she could do the reversal surgery since I was young. She told me that I could have babies again.
I was scared at the thought of undergoing the operation, but she gave me confidence.
My family told me not to have the operation as it may endanger my life. But I thought since I had already lost my children, if I had to live, I would live, if I had to die, I would die. But if I became pregnant again, it would be nice.
So I decided to undergo the reversal operation.
The surgery was successful. There were no problems. I became pregnant after a few months and had a daughter. It was a normal delivery. My husband and I thought we could have only one child. But the doctor told me that since it was a normal delivery, we could have more children.
We now have three children - the eldest is our daughter Suji, eight, then a son Nishanth, five, and the youngest is 18-month-old Venisha.
We haven't told our children about the children we lost in the tsunami, though they may have heard about them from others.
My eldest daughter sometimes asks me if she had any older siblings. I tell her: "Yes, you did, but the water took them away".
I have been able to get pregnant and have children again because of God's grace. Without Him and our doctor, this would not have been possible.
Anubha Rohatgi spoke to more tsunami-hit parents for Outlook on the BBC World Service. Listen again on iPlayer.