Indian media praise launch of cryogenic rocket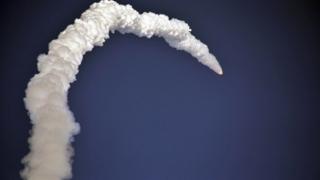 India has entered an elite group of nations after its successful launch of a satellite using an indigenous cryogenically-powered rocket, papers say.
India's Geosynchronous Satellite Launch Vehicle (GSLV-D5), powered by a cryogenic engine, blasted off from Sriharikota in the southern state of Andhra Pradesh, and put a 1,982-kg communications satellite into a perfect orbit after a 17-minute flight on Sunday.
The successful launch is significant because it comes after India's several failed attempts to use indigenous cryogenic engines in launching heavy satellites.
India has successfully launched lighter satellites in recent years, but has faced problems sending up heavier payloads.
In December 2010, a similar rocket had disappeared in a plume of smoke moments after its launch. The first attempt to launch it in April 2010 had also been unsuccessful.
However, India has now joined the elite group that includes the US, Russia, France, Japan, China and the European Space Agency after the launch of the GSLV-D5.
Most Indian newspapers are carrying the news on their front pages - a sign that today's India attaches great importance to space exploration.
"After 20 years of toil, the Indian Space Research Organisation (ISRO) took a quantum leap in mastering a rocket technology that puts it in the big league of space-faring nations," The Indian Express says in front-page report.
The Times of India says the achievement is important for "a nation that has grappled with high-end cryogenics for two decades" and Sunday "marked the triumphant end of a long wait propelled by resilience in the face of repeated failures."
The mission's success means that India "now has the ability to put satellites weighing more than two tonnes into orbit… using cryogenic propellants - liquid oxygen at minus 183C and liquid hydrogen at minus 253C," The Hindu explains.
Battle against polio
Meanwhile, India's Border Security Force (BSF) and its counterpart, the Pakistan Rangers, have reactivated 16 phone lines along the border to defuse hostile incidents and prevent them from escalating, a report in The Indian Express says.
"We have already started talking on these numbers… I can tell you that they existed but were never used," the report quotes BSF Director-General Subhash Joshi as saying.
The move comes against the backdrop of several cease-fire violations last year in which border troops and civilians were killed on both sides.
Staying with foreign affairs, Bangladesh and Afghanistan have sought India's help with battling polio, following the country's success in wiping out the disease, The Asian Age reports.
The two countries have asked India to share its "formula of success", the report says.
India has not registered any polio case since 2011 and is set to be declared "polio-free" by the World Health Organisation in February.
And finally, 19 villages in Punjab's Ambala have refused to pay property tax to protest against insufficient developmental work in the area, a report in The Tribune says.
Several villages in the area still lack a supply of clean drinking water, the report adds.
BBC Monitoring reports and analyses news from TV, radio, web and print media around the world. For more reports from BBC Monitoring, click here. You can follow BBC Monitoring on Twitter and Facebook.