India's growing fitness craze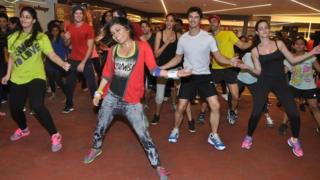 India's western city of Mumbai will host the 14th edition of its annual marathon on Sunday.
Nearly 50,000 runners from around the world are expected. These days the stretch from the city's seafront in Worli to the business district of Nariman Point is peppered with local running enthusiasts of all shapes and sizes.
Early in the morning, they jostle for space with cars and cyclists.
In India, fitness is becoming a serious business and the growing popularity of this marathon is testament to that.
Three years ago, in New York City, I started doing zumba. Combining dance and intense cardio, it is the perfect workout for someone with high energy and a short attention span.
Over the past year, I have been going four times a week and feel extremely restless on days that I have to miss class. Given this dependence, I was actually tense about how I would manage when I recently moved back to India for a few months.
Thrilled
I showed up 10 minutes early for my first zumba class in Mumbai last month. The first class with a new instructor is more nerve-wracking than a first date.
Will you get along? Will it be challenging enough? Will you get the moves? Will the class fit?
At the end of the hour, drenched in sweat and with adrenaline pumping through my veins, I was thrilled that I had hit upon a perfect class on my very first try in Mumbai. The following day, at a different studio, I had a similar experience. The instructor was terrific and a large percentage of the other students were quite impressive.
All of the trainers I have encountered over the past few weeks have a strong Bollywood dance background.
It is natural that zumba would thrive in India. Even the most rhythmically challenged of us has grown up with Bollywood music. We have all danced at a wedding and it isn't too many hops, skips, and jumps from there to a zumba class.
Bicep-flaunting
And it isn't only zumba. Bollywood should be thanked for the way India is starting to view fitness.
I remember growing up in Delhi in the 1990s and rarely seeing gyms. Movie stars tended to be rather plump.
There have always been fitness fanatics and motorcycle-riding, bicep-flaunting men but it's refreshing to see fitness being brought into the urban mainstream.
Of course there is the risk of this going too far and leading to a generation of young women dealing with eating disorders and body image issues in a quest to look like Bollywood actress Bipasha Basu. But right now, it's nice to see full gyms and studios and endorphin-fuelled people streaming out of them.
In any case, Bollywood seems to be unattracted to the anorexic look so the focus does seem to be shifting more towards a healthy lifestyle than simply thinness.
In all the big cities now, there are countless gyms and studios catering to all different fitness, financial, and glamour levels.
There are kick-boxing, spinning, aerobics, pilates, mixed martial arts (MMA) classes and more. There are outdoor running, biking, and hiking groups. There's something for everyone. Reebok's hugely successful and challenging Crossfit workout has made it's way to India and is opening gyms around the country.
Last week, on the Worli promenade, I noticed a "fitness station".
It looked like a bus stop but had bars and benches for all kinds of exercise options and was in continuous use. It seems the perfect time to be interested and investing in fitness in India.
The fitness world is popular enough for plenty of options but small enough for quality to be maintained.
Diksha Basu is a writer and actor based in Mumbai and New York City.