India's Aam Aadmi Party to contest general elections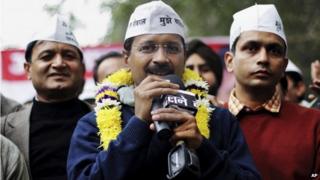 A new anti-corruption party in India will contest this year's general elections, one of its leaders has said.
The Aam Aadmi (Common Man's) Party (AAP), which made a spectacular debut in recent polls in the capital Delhi, will put up candidates in "at least 15 to 20 states", Yogendra Yadav said.
The AAP heads the government in Delhi with support from the Congress party.
The party is led by Arvind Kejriwal, a former civil servant-turned-activist who is now chief minister of Delhi.
Mr Kejriwal's party won 28 of the 70 seats in last month's Delhi elections on a pledge to fight corruption and clean up politics.
Encouraged by the performance, the party confirmed that it will be contesting the parliamentary elections, which are likely to be held in April or May.
"Though it is sure that we will contest election from a large number of seats, at present we are not sure that we will contest from all 545 seats. We hope to contest from at least 15-20 [of India's 28] states," AAP leader Yogendra Yadav said on Sunday.
Mr Yadav said the party's first list of candidates will be announced by 20 January following a "rigorous screening process".
He said candidates with allegations of corruption and facing criminal charges will not be considered.
Mr Yadav said the party would contest the general elections under the leadership of Mr Kejriwal, though "it was too early to discuss the party's prime ministerial candidate".
The party also announced a nationwide campaign for enrolling new members amid reports of increasing numbers of people joining it all over the country.
The AAP - whose party symbol is a broom - was born out of a strong anti-corruption movement that swept India two years ago.