Arvind Kejriwal: Delhi chief minister wins confidence vote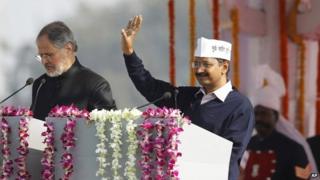 Arvind Kejriwal, new chief minister of India's capital Delhi, has won a vote of confidence in the state assembly.
Support from the Congress party which had been in power helped him secure 37 votes, one more than he needed.
Mr Kejriwal's Aam Aadmi (Common Man's) Party (AAP) won 28 of the 70 seats in last month's elections on a pledge to fight corruption and clean up politics.
He was sworn in as Delhi's chief minister at the Ramlila Ground on Saturday.
In Thursday's vote, seven of the Congress party's eight state assembly members voted with the AAP, as did one member of the Janata Dal United and an independent, the Press Trust of India reported.
Mr Kejriwal had appealed to members to decide "as to which side they are in the fight between truth and honesty in politics".
The AAP surprised everyone by its performance in the elections.
In his first major decisions, Mr Kejriwal announced a reduction in electricity tariffs and delivered on the party's promise to give free water to residents. He has also announced an audit of power distribution companies.
The main opposition Bharatiya Janata Party emerged as the single largest in the assembly with 32 seats, but declined to form a government.
It said it would sit in opposition since it did not have the support of the 36 legislators needed to rule Delhi.
The AAP had initially taken a similar stand, only to change its mind, saying it had received "overwhelming support" from voters to go ahead and form a government.
The AAP - whose party symbol is a broom - was born out of a strong anti-corruption movement that swept India two years ago.