Indian media: Economic recovery in 2014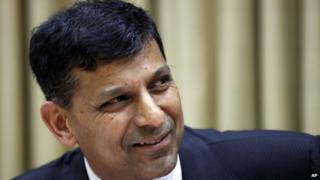 Media are highlighting banking chief Raghuram Rajan's statement that political stability will play a key role in India's economic recovery in 2014.
"In India, a potential additional source of uncertainty is the coming general election. A stable new government would be positive for the economy," Mr Rajan, the chief of the Reserve Bank of India, said in his foreword to the latest Financial Stability Report.
India's economy has been on a downward spiral throughout 2013.
Mr Rajan seems to have realised the importance of policy implementation in 2014 as India gears up for the general elections, reports say.
"With confidence in the financial system still fragile, six years into the crisis, policy certainty is something that investors look for in the current environment," a report in The Indian Express quotes him as saying.
Mr Rajan's hopes aside, papers are not very confident of a clear mandate in next year's elections.
"Although a stable new government may be a blessing for an economy battered by slowest growth in nearly a decade, developments point to a coalition which may be unstable," The Indian Express adds.
Cold wave
Moving on to some political news, the Aam Aadmi Party (AAP) government has started fulfilling its promises as it announced on Monday that every family in Delhi will get 667 litres of free water daily, The Times of India reports.
The AAP, or Common Man's party, won 28 of the 70 seats in the assembly polls in its political debut and formed a government in Delhi with former civil servant Arvind Kejriwal as its chief minister.
Staying with politics, Kumar Vishwas, a senior AAP leader, has decided to contest general elections against Congress vice-president Rahul Gandhi from Amethi district in the northern Indian state of Uttar Pradesh, The India Today reports.
Ands finally, the temperature has dropped significantly in several parts of northern India.
"Parts of northern India continued to reel under severe cold wave conditions on Monday with temperatures plummeting to 0.3C in Uttar Pradesh's Muzaffarnagar district, The Times of India reports.
BBC Monitoring reports and analyses news from TV, radio, web and print media around the world. For more reports from BBC Monitoring, click here. You can follow BBC Monitoring on Twitter and Facebook.