Arvind Kejriwal seeks 10 days for Delhi complaints system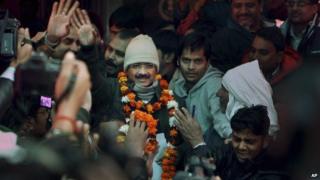 Arvind Kejriwal, Delhi's new chief minister, says he needs 10 days to set a up a system to address the complaints of residents of India's capital city.
Mr Kejriwal's new anti-corruption party, Aam Aadmi Party (AAP), or Common Man's party, won 28 of the 70 assembly seats in recent polls.
It formed a government with support of the Congress, which won eight seats.
But hundreds of people have been arriving at Mr Kejriwal's home seeking solutions to their problems.
Mr Kejriwal told the people who had gathered at his residence with their complaints that he would accept them only after a system was in place.
"I don't want to give you false assurances. I will take the application when we put a system in place to resolve the problems," he said.
"We have just assumed power. It will take us sometime, seven to 10 days to put a system in place to resolve your problems."
Mr Kejriwal was sworn in as Delhi's chief minister at the city's Ramlila Ground on Saturday.
He has pledged to end the culture of privilege in Indian politics: he used public transport to reach the swearing in ceremony on Saturday, and has refused special security and expensive government accommodation.
The AAP - whose party symbol is a broom - was born out of a strong anti-corruption movement that swept India two years ago.