India Andhra Pradesh train fire victims identified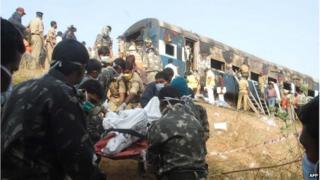 The bodies of 20 people who died in a fire on a train in India on Saturday have been identified, officials say.
Twenty-six passengers died in the blaze which engulfed a carriage of the Nanded-Bangalore Express while it was travelling through southern Andhra Pradesh state.
Police said many of the dead were asphyxiated by thick smoke which filled the train.
An electrical short circuit may be to blame, officials say.
"The bodies of 20 people who were charred to death in a devastating fire have been identified. Of the 20 bodies identified, eight have been handed over to relatives," Indian Railways official Ramesh told Press Trust of India news agency.
The fire broke out in an air-conditioned carriage near the small town of Puttaparthi in Andhra Pradesh.
More than 60 passengers are thought to have been inside the carriage, and the doors were locked as is customary at night, reports said.
Accidents are common on India's immense state-owned rail network, which operates 9,000 passenger trains and carries some 18 million passengers every day, connecting every corner of the country.
Last year, 47 people were killed in a fire on a passenger train travelling in Andhra Pradesh. That blaze was also attributed to an electrical short circuit.